NOTE : read the rest of the series, or check out the source code.
If you enjoy read­ing these exer­cises then please buy Crista's book to sup­port her work.
Fol­low­ing on from the last post, we will look at the Bul­letin Board style today.
Style 15 – Bulletin Board
Constraints
Larg­er prob­lem is decom­posed into enti­ties using some form of abstrac­tion
The enti­ties are nev­er called on direct­ly for actions
Exis­tence of an infra­struc­ture for pub­lish­ing and sub­scrib­ing to events, aka the bul­letin board
Enti­ties post events sub­scrip­tions to the bul­letin board, and pub­lish events to the bul­letin board. The bul­letin board infra­struc­ture does all the event man­age­ment and dis­tri­b­u­tion
If you've done any WPF work in the past (or in the present) then you might rec­og­nize this style as the Weak Event pat­tern.
Whilst sim­i­lar in design to the Hol­ly­wood style, this style fur­ther decou­ples the enti­ties with an Event­Man­ag­er that sits between them all.
So let's start by defin­ing what a han­dler and event man­ag­er looks like:

Unfor­tu­nate­ly we have to for­feit some type safe­ty here as we uni­fy dif­fer­ent events under the same umbrel­la. Here's the imple­men­ta­tion for the IEvent­Man­ag­er inter­face: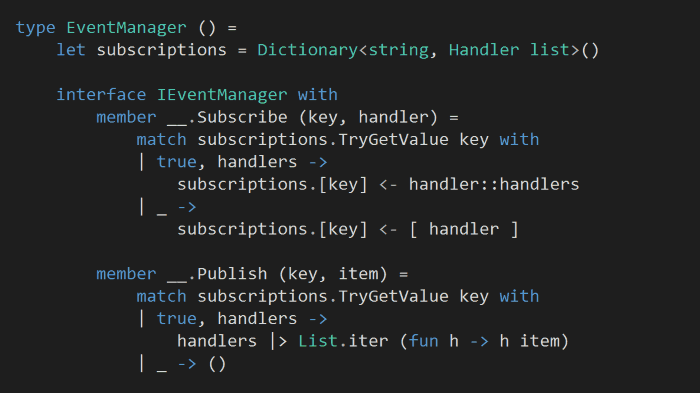 The 3 enti­ties — DataS­tor­age, Stop­Words­Fil­ter and Word­Fre­quen­cy­Counter — are sim­i­lar to those in the Hol­ly­wood style, except they now sub­scribe and pub­lish events through the afore­men­tioned IEvent­Man­ag­er abstrac­tion.
Oh, and we'll stick with the RunArgs type we cre­at­ed last time: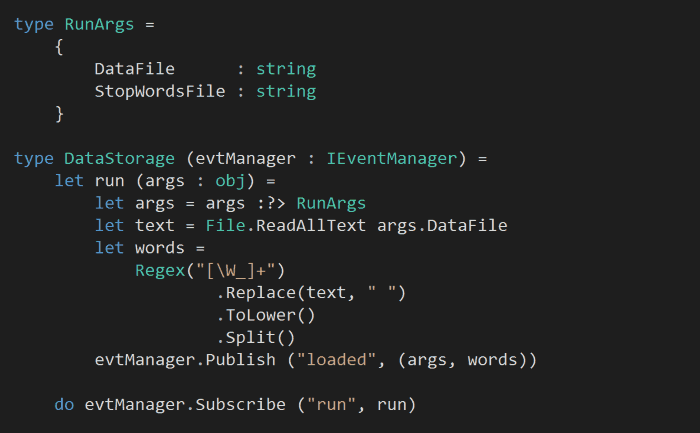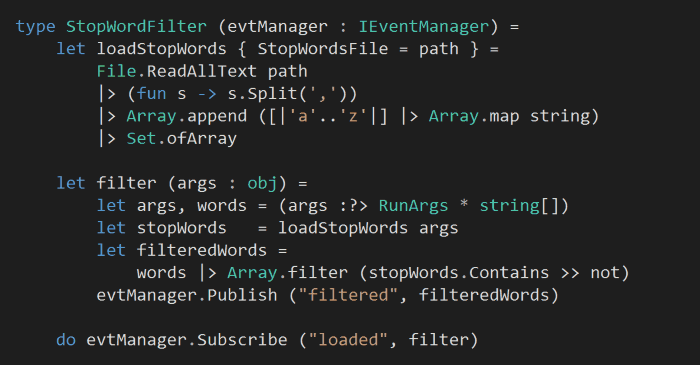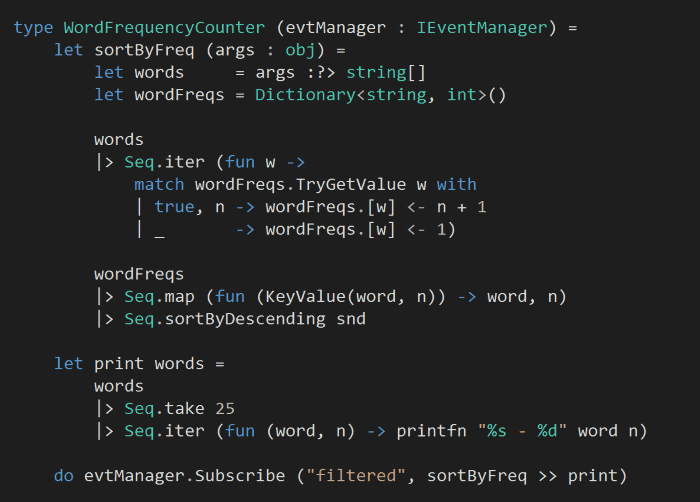 Final­ly, to put every­thing togeth­er:

You can find the source code for this exer­cise here.