Reach 30k software engineers globally per month.
Spon­sor­ship for theburningmonk.com is avail­able to those who wish to reach 30,000 unique vis­i­tors per month, who spends on aver­age 58s on the site and reads 2.23 pages.
Demographic
All the demo­graph­ic data above are pro­vid­ed by Google Ana­lyt­ics.
Positioning of the Sponsorship
The sponsor's mes­sage is dis­played in a promi­nent yet non-obtru­sive posi­tion at the top of each post.
This is how it looks on a small screen.
It will also appear in the RSS feed (see below) which sur­faces the mes­sage in both RSS read­ers and oth­er con­sumers of the feed such as email sub­scrip­tions via IFTTT.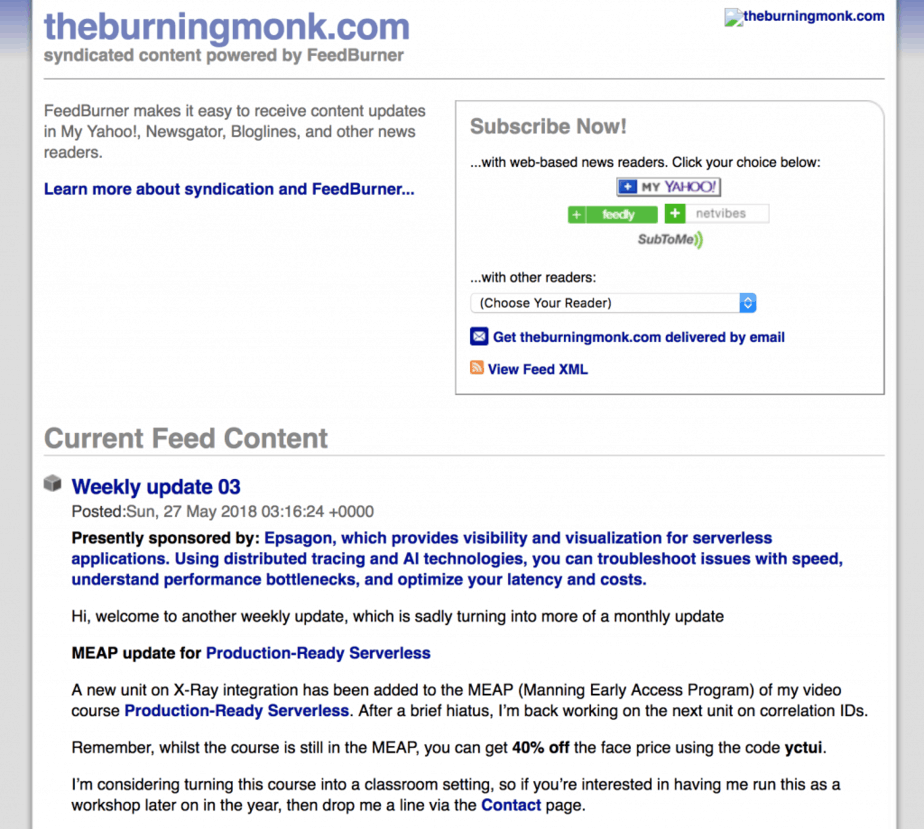 Thank you note
In addi­tion to the spon­sor mes­sage, I will also include a thank you note on both Twit­ter and LinkedIn.
At the start of the spon­sor­ship, I will include a short para­graph from the spon­sor in my week­ly update post (see this post as exam­ple). The spon­sor can also include screen­shots to show­case their prod­uct (see below).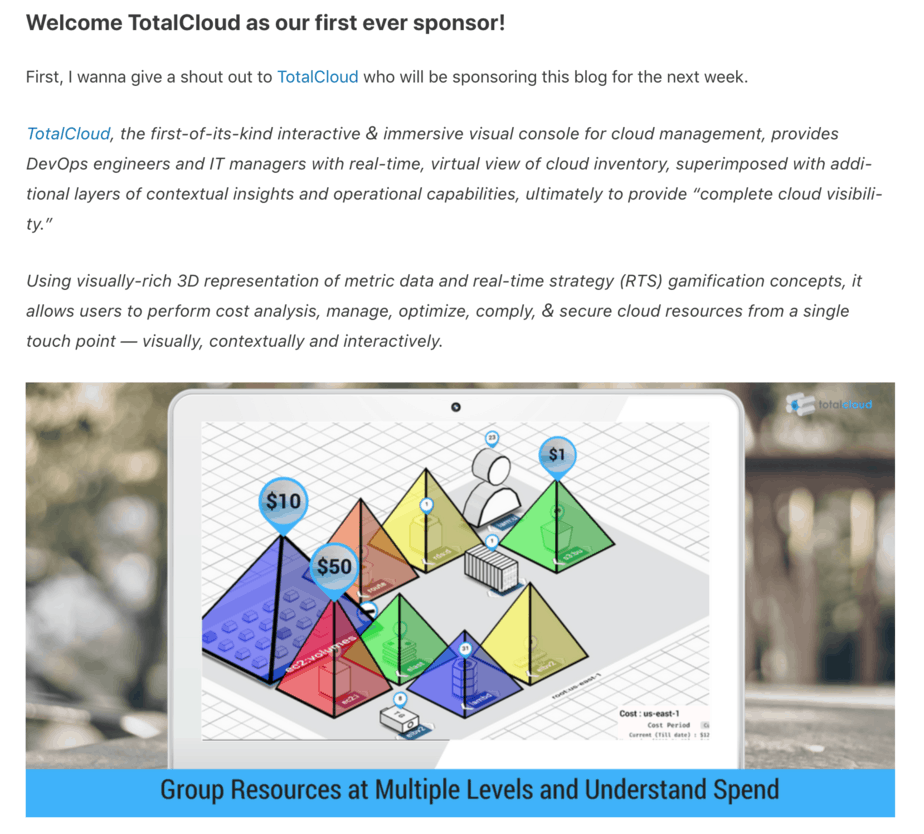 The sponsor message
The spon­sor mes­sage may be up to 280 char­ac­ters long and is posi­tioned after the "Present­ly spon­sored by" text to ensure trans­paren­cy. The entire mes­sage is then hyper­linked to a resource of the sponsor's choos­ing. It should be accu­rate, direct and in keep­ing with the can­did, trans­par­ent fash­ion in which I run the site. The mes­sage should also clear­ly iden­ti­fy who the spon­sor behind it is.
Sponsor selection
Since a sponsor's mes­sage is dis­played promi­nent­ly on this site along­side my con­tent, it's there­fore impor­tant that I'm endorsed in what the spon­sor does which may mean that some are not a good fit for the site.
Pricing
Price is a flat rate of $300 per month.
FAQ
For any­thing that is not cov­ered here, please get in touch and I'm hap­py to answer your ques­tions.
How do I get in touch?
Reach out via the spon­sor­ship request page, I'll get in touch prompt­ly.
What CPM/CPC do you offer?
There is no CPM/CPC. The price will be a flat month­ly fee. The pur­pose of the spon­sor­ship is to get away from the view/click based ad rev­enue stream that incen­tivis­es visu­al­ly intru­sive ads.
Can I add a third par­ty track­er?
No, as one of the goals of spon­sor­ship was to move away from track­ers and ads in the first place.
Can I add markup to the spon­sor mes­sage?
Ital­ics is fine, any­thing else would require a dis­cus­sion to ensure the spon­sor mes­sage stays inline with the gen­er­al look and feel of this blog and to not appear spam­my.
Can I cre­ate a guest post instead?
No, I do not accept guest posts on this blog.