Reach 40k software engineers globally per month.
Sponsorship for theburningmonk.com is available to those who wish to reach over 40,000 unique visitors per month, who spend on average 36s on the site and reads 1.17 pages.
Demographic

All the demographic data above are provided by Google Analytics.
The positioning of the Sponsorship
The sponsor's message is displayed in a prominent yet non-obtrusive position at the top of each post.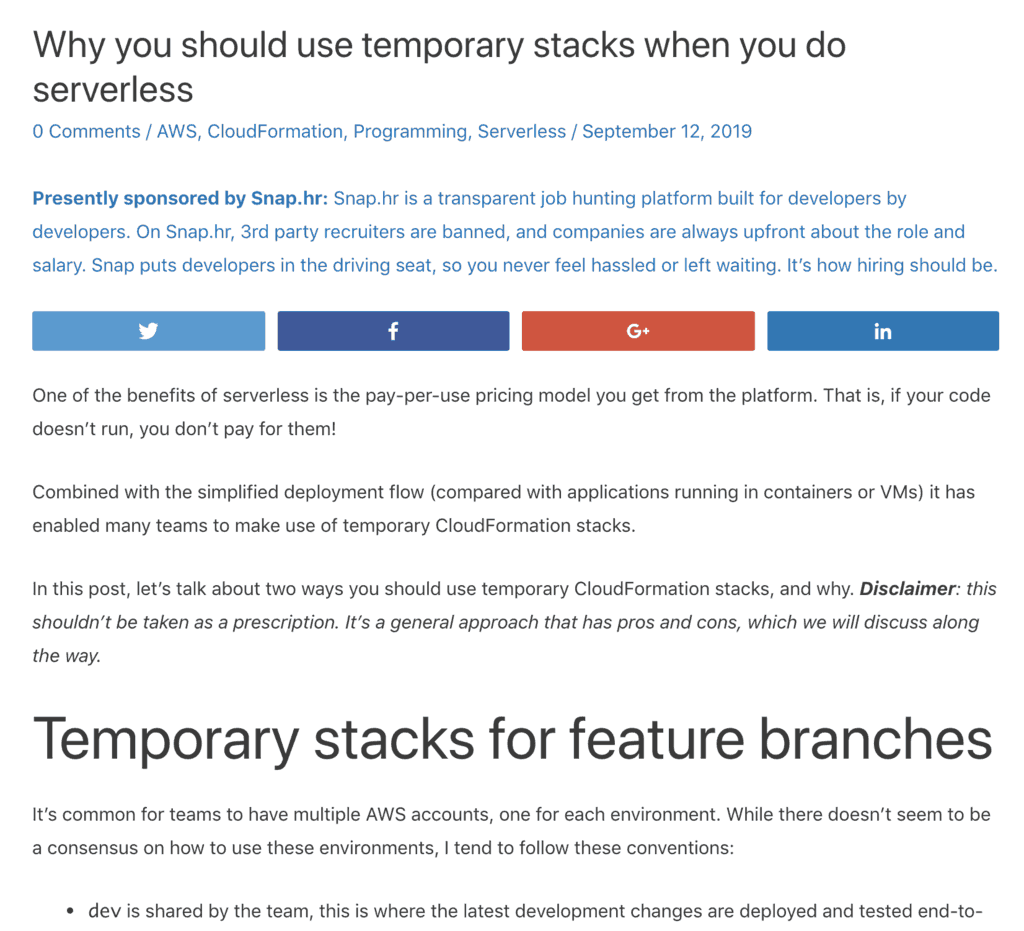 This is how it looks on a small screen.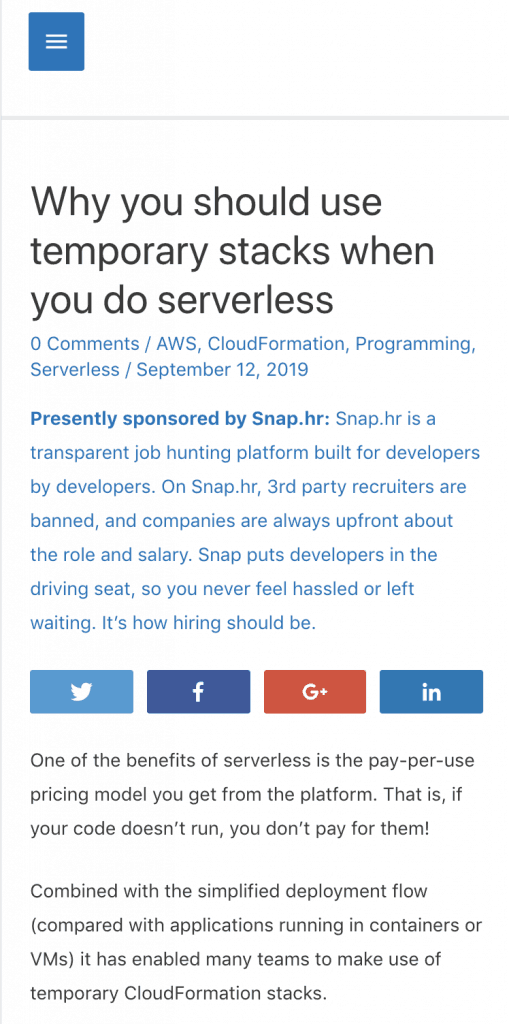 It will also appear in the RSS feed (see below) which surfaces the message in both RSS readers and other consumers of the feed such as email subscriptions via IFTTT.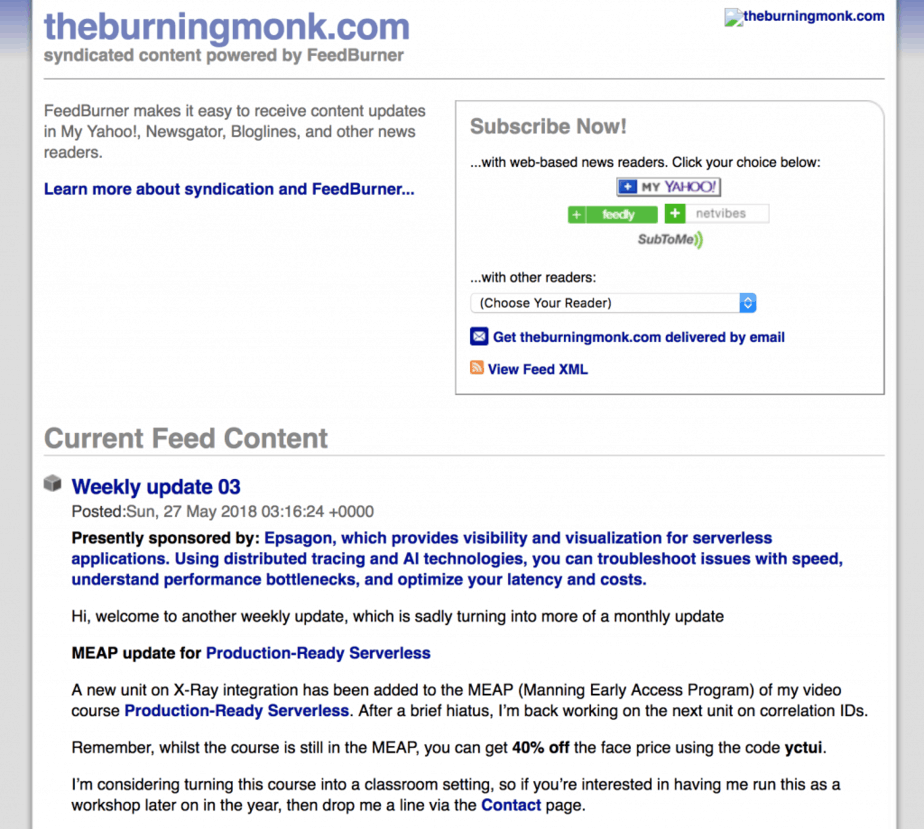 Thank you note
In addition to the sponsor message, I will also include a thank you note on both Twitter and LinkedIn.
At the start of the sponsorship, I will include a short paragraph from the sponsor in my weekly update post (see this post as example). The sponsor can also include screenshots to showcase their product (see below).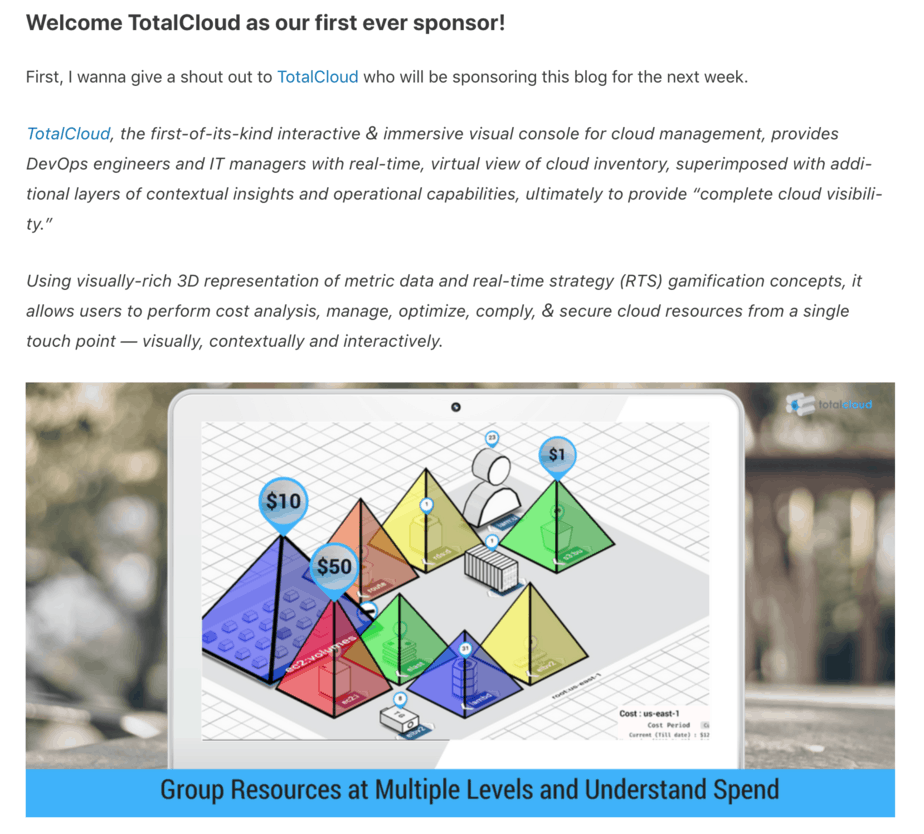 The sponsor message
The sponsor message may be up to 280 characters long and is positioned after the "Presently sponsored by" text to ensure transparency. The entire message is then hyperlinked to a resource of the sponsor's choosing. It should be accurate, direct and in keeping with the candid, transparent fashion in which I run the site. The message should also clearly identify who the sponsor behind it is.
Sponsor selection
Since a sponsor's message is displayed prominently on this site alongside my content, it's therefore important that I'm endorsed in what the sponsor does which may mean that some are not a good fit for the site.
Pricing
Price is a flat rate of $300 per month, paid upfront.
FAQ
For anything that is not covered here, please get in touch and I'm happy to answer your questions.
How do I get in touch?
Reach out via the sponsorship request page, I'll get in touch promptly.
What CPM/CPC do you offer?
There is no CPM/CPC. The price will be a flat monthly fee. The purpose of the sponsorship is to get away from the view/click based ad revenue stream that incentivises visually intrusive ads.
Can I add a third party tracker?
No, as one of the goals of sponsorship was to move away from trackers and ads in the first place.
Can I add markup to the sponsor message?
Italics is fine, anything else would require a discussion to ensure the sponsor message stays in line with the general look and feel of this blog and to not appear spammy.
Can I create a guest post instead?
No, I do not accept guest posts on this blog.