You can become a serverless blackbelt. Enrol to my 4-week online workshop Production-Ready Serverless and gain hands-on experience building something from scratch using serverless technologies. At the end of the workshop, you should have a broader view of the challenges you will face as your serverless architecture matures and expands. You should also have a firm grasp on when serverless is a good fit for your system as well as common pitfalls you need to avoid. Sign up now and get 15% discount with the code yanprs15!
NOTE : read the rest of the series, or check out the source code.
If you enjoy read­ing these exer­cises then please buy Crista's book to sup­port her work.
Fol­low­ing on from the last post, we will look at the Spreadsheet style today.
Style 26 – Spreadsheet
Constraints
The problem is modeled like a spreadsheet, with columns of data and formulas.
Some data depends on other data according to formulas. When data changes, the dependent data also changes automatically.
Since we're modelling the problem like a spreadsheet, let's first define a few type alias to help us establish our domain language.
a column is referenced by a string – e.g. column "A", "B", "C", and so on
a column can have explicit values, or a formula
a formula references one or more other columns and uses their data to calculate the display value for the column

We can model a Column with a union type, where a column is:
a) given explicit values; or
b) given a formula, and its display value is calculated from that formula.

A Spreadsheet is a collection of columns, whose value can be retrieved or updated using a ColumnRef, e.g.
let spreadsheet = Spreadsheet()

spreadsheet.["A"] <- Choice1Of2 [| "hello"; "world" |]

let columnA = spreadsheet.["A"] // [| "hello"; "world" |]
Note that our custom indexer accepts a Choice<DisplayValue, Formula> in its setter instead of a Column. I made this decision because Column.Formula needs both the Formula and its calculated DisplayValue, and here it shouldn't be the caller's responsibility to exercise the formula and calculate its DisplayValue.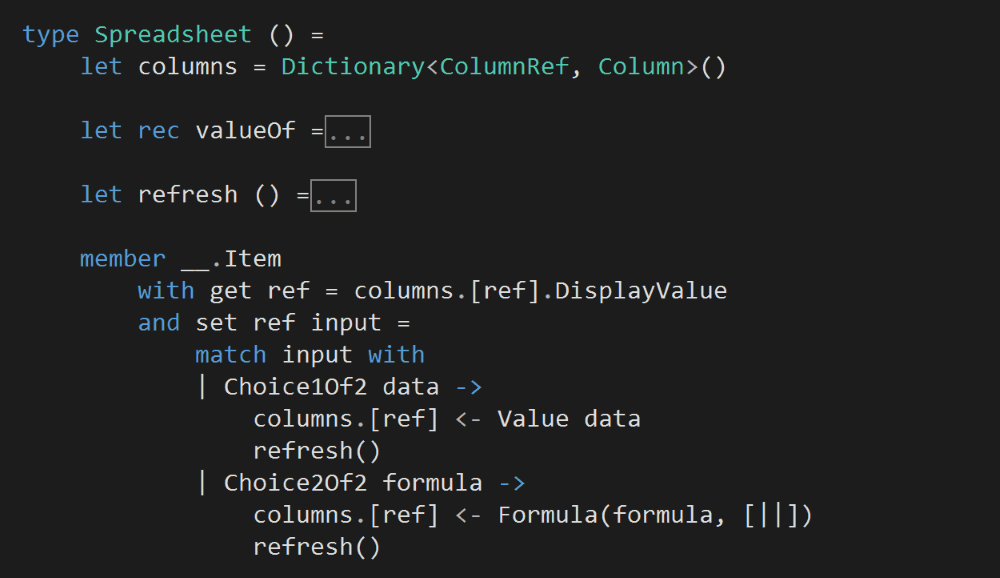 After a column's value is updated, we'll recalculate the DisplayValue of all the columns in the Spreadsheet. This is a naive approach, but sufficient for the task at hand.
During this step, we'll need to recursively evaluate the DisplayValue of the columns, sometimes a column might be evaluated multiple times if it's referenced by several formulae. Again, there's room for optimization here by caching previously calculated values.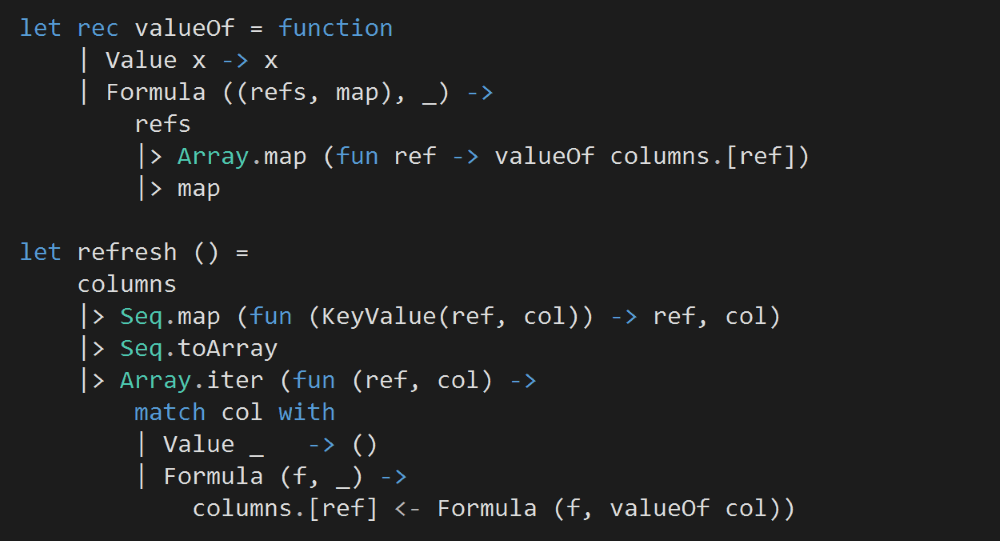 Next, we'll start inputting data into our Spreadsheet.
To make it easier to work with the Choice<DisplayValue, Formula> type, let's add two helper functions.

We'll leave column A and B blank for now.

Column C will use the data from Column A (all words) and Column B (stop words) to calculate all the non-stop words.
Column D will contain all the distinct words from Column C (non-stop words).

Column E references both Column C (non-stop words) and Column D (distinct non-stop words), and counts the frequency for each of these words.
An important detail to note here is that, positionally, each count in Column E is aligned with the corresponding word in Column D.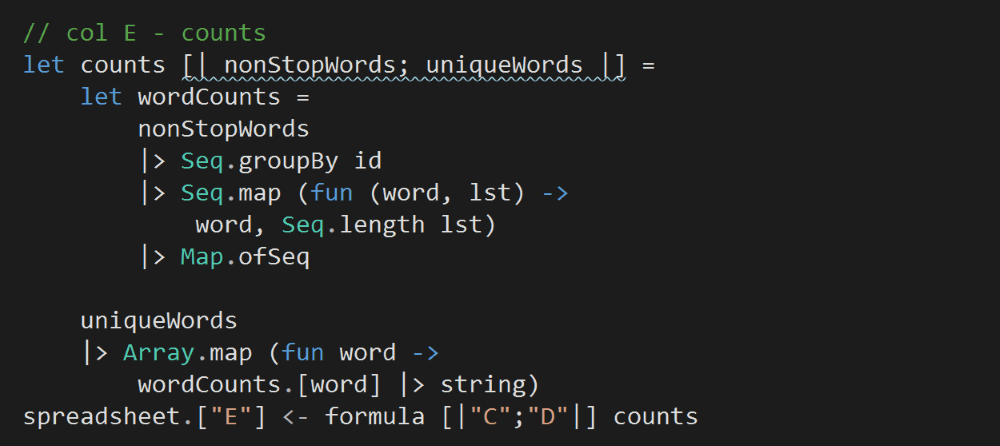 Column F is where we'll store the output of the program.
Because Column D (unique non-stop words) and Column E (counts) are positionally aligned, so we can use Array.zip to combine the two columns to calculate a sorted array of word frequencies.

Now that all the columns are set up, we can go back and input the text from Pride and Prejudice and the list of stop words into Column A and B respectively.
Doing so will trigger the DisplayValue of all the other columns to be recalculated.

Finally, we'll take the top 25 rows from Column F and print them to complete our program.

I hope you've enjoyed today's style, apologies for the lack of updates the last two weeks, I have been busy working out some stuff on a personal front. I'll resume the two posts per week routine, which means we should finish this series in just over a month!
You can find the source code for this exer­cise here.
Subscribe to my newsletter
---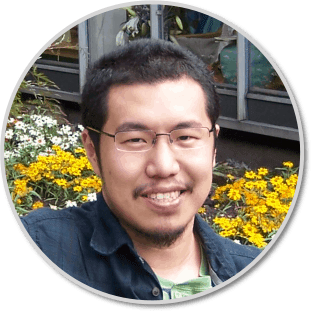 Hi, I'm Yan. I'm an AWS Serverless Hero and I help companies go faster for less by adopting serverless technologies successfully.
Are you struggling with serverless or need guidance on best practices? Do you want someone to review your architecture and help you avoid costly mistakes down the line? Whatever the case, I'm here to help.
---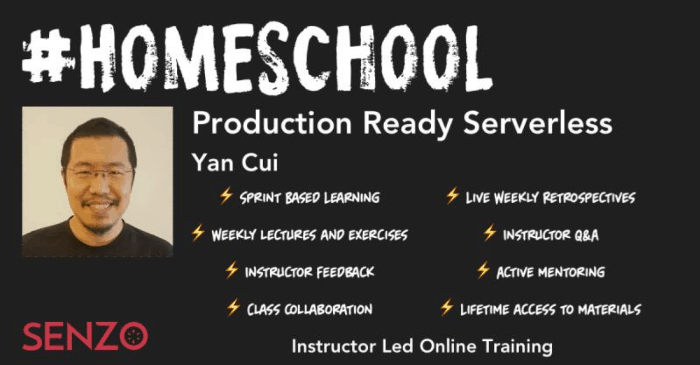 Skill up your serverless game with this hands-on workshop.
My 4-week Production-Ready Serverless online workshop is back!
This course takes you through building a production-ready serverless web application from testing, deployment, security, all the way through to observability. The motivation for this course is to give you hands-on experience building something with serverless technologies while giving you a broader view of the challenges you will face as the architecture matures and expands.
We will start at the basics and give you a firm introduction to Lambda and all the relevant concepts and service features (including the latest announcements in 2020). And then gradually ramping up and cover a wide array of topics such as API security, testing strategies, CI/CD, secret management, and operational best practices for monitoring and troubleshooting.
If you enrol now you can also get 15% OFF with the promo code "yanprs15".
---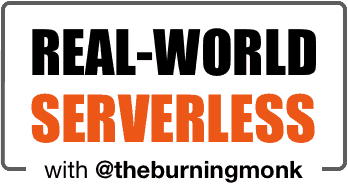 Check out my new podcast Real-World Serverless where I talk with engineers who are building amazing things with serverless technologies and discuss the real-world use cases and challenges they face. If you're interested in what people are actually doing with serverless and what it's really like to be working with serverless day-to-day, then this is the podcast for you.
---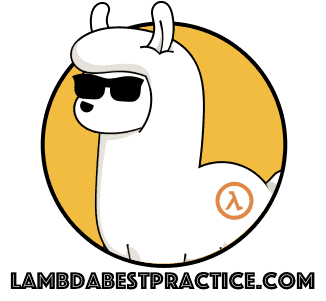 Check out my new course, Learn you some Lambda best practice for great good! In this course, you will learn best practices for working with AWS Lambda in terms of performance, cost, security, scalability, resilience and observability. We will also cover latest features from re:Invent 2019 such as Provisioned Concurrency and Lambda Destinations. Enrol now and start learning!
---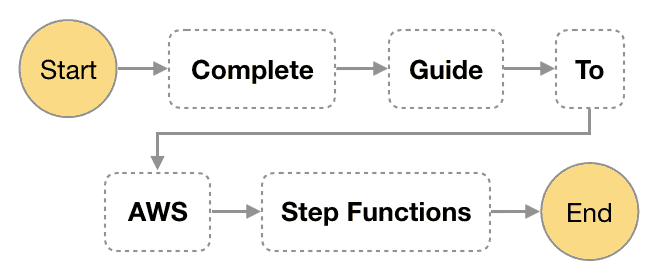 Check out my video course, Complete Guide to AWS Step Functions. In this course, we'll cover everything you need to know to use AWS Step Functions service effectively. There is something for everyone from beginners to more advanced users looking for design patterns and best practices. Enrol now and start learning!
---
Further reading
Here is a complete list of all my posts on serverless and AWS Lambda. In the meantime, here are a few of my most popular blog posts.