Presently sponsored by Serverless Guru:
Your guide to cloud excellence, helping you every step of your serverless journey, including team training, pattern development, mass service migrations, architecting, and developing new solutions.
Speak to a Guru today
.
Today is my last day at Space Ape Games, and it's been a wonderful year. I learnt a lot in my time here, and worked on some challenging technical problems. At the same time, I'm looking forward to starting a new adventure at DAZN and help them become the Netflix of Sports! I will be looking for talented engineers to join me at DAZN, check out the job spec for more detail.
I firmly believe that Space Ape Games is one of the best startups you'll find anywhere, based on culture and potential. Here are 7 things that make Space Ape Games such a great company.
Define what culture you want, and organize yourself to optimize towards achieving that culture
Lots companies talk about how great their culture is, but few talks about what is their culture. Worse yet, I suspect most end up with a culture they don't want, because the culture grew organically without guidance.
To this day, the Netflix culture deck from 2009 is still the best thing you can read about culture.
Real company values are the behaviours and skills that we particularly value in fellow employees. – Reed Hastings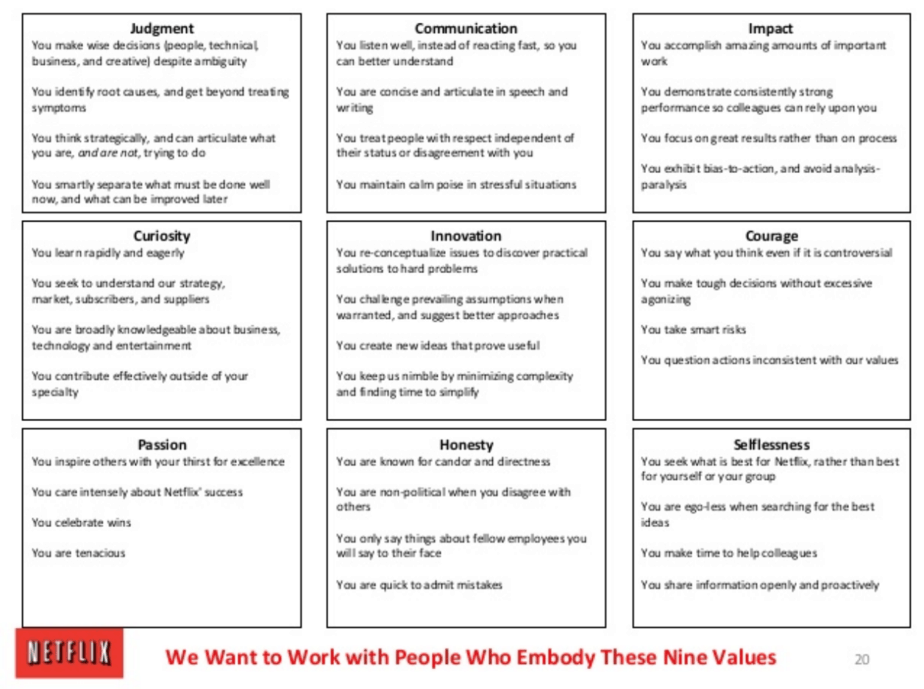 From the beginning, the founders of Space Ape Games were clear about the culture they wanted to build.
Passionate : you have a passion for games, and you want to build games that are fun and engaging.
Creative : you are not afraid to stray off the beaten path and try something new. You accept the risks that come with creativity. You won't let failures stop you from succeeding.
Judgement : you make smart bets. You balance the risks of creativity with methodical analysis of the potential reward to make smart bets.
Dependable : you are dependable and trustworthy. We believe in small, autonomous teams. For this to work we need to be able to depend on every individual in the team.
Focus : when required, you can put aside personal projects and focus on delivering the best game possible.
Mastery : you are a master of your craft. You want to become the best version of yourself and are always looking for ways to improve.
Collaborative : you work well with others. You are willing to make sacrifices and compromises for the greater good of the company. Game making is an inherently creative and collaborative process. We need people that can thrive in a collaborative environment.
Inclusive : you welcome others for who they are. You treat others equally and fairly, the same way that you expect to be treated.
The founders reiterate this vision at every quarterly company meeting. New employees are imbued with the same vision. Existing employees are reminded of their duty to maintain this proud product.
"People are our most important product." – John Earner (co-founder, CEO, Space Ape Games)
Culture lives and dies by the people you hire and fire
This shared understanding of culture filters through to every hiring decision. Both founders, John Earner (CEO) and Simon Hade (COO), are involved with every hiring decision.
"culture fit" is often used to enforce existing biases, when said culture is never defined up front. That was never been the case in any of the hiring committees I have sat in. Whenever "culture fit" is raised as a concerned, you must give clear examples from your interaction with the interviewee.
At the same time, we wouldn't hire someone who might be detrimental to our culture. Not even when we are desperate for another pair of hands on deck!
The cost of a bad hire on our culture is too great.
"Rather a hole than an a**hole" – Toby Moore (co-founder, ex-CTO, Space Ape Games)
The founders also act as the vanguards for our culture. Watching from afar, but never afraid to step in when they see danger signs. If a long time employee starts to show signs of self-entitlement, then expect a gentle reminder about our commitment on inclusion.
John mentions this regularly, and I think it's a message worth sharing.
"We have a great culture, but we can't afford to take it for granted. It's the duty of everyone here to keep that culture." – John Earner (co-founder, CEO, Space Ape Games)
People are our most important product
This is true for most companies. Which is why it should be a no-brainer to invest in the people and help them grow.
Offer training budgets to everyone, and provide managers with management coaches. At Space Ape Games, every manager including the founders see management coaches regularly.
Founders need to communicate the vision of the company openly, clearly, and frequently
Avoid impressive sounding but vague mission statements. Vague goals that does not define clear, actionable targets are hard to follow and apply. Collaboration suffers when people do not have a shared understanding of the company vision.
John reiterates the company mission at every quarterly company meeting. The repetition has been important in reinforcing the shared understanding of the goal. I recently also saw Ryan Caldbeck, the CEO of CircleUp say the same thing on Twitter.
17/ Being visionary and effectively communicating the vision are two very different things. It doesn't work to be the former without the latter. The latter requires repetition. A lot of repetition.

— Ryan Caldbeck (@ryan_caldbeck) March 25, 2018
Space Ape's mission statement is "to build a top grossing mobile game by owning a genre". Simple, unglamorous, but easy to understand. Our partnership with Supercell also showed us what a top grossing game looks like from a retention and monetization point of view.
Be honest about conflict of interest
Managers usually have the best intentions when they set out personal objectives for their charge. Everyone gets a set of objectives that align with the company's goal. Where is the conflict of interest?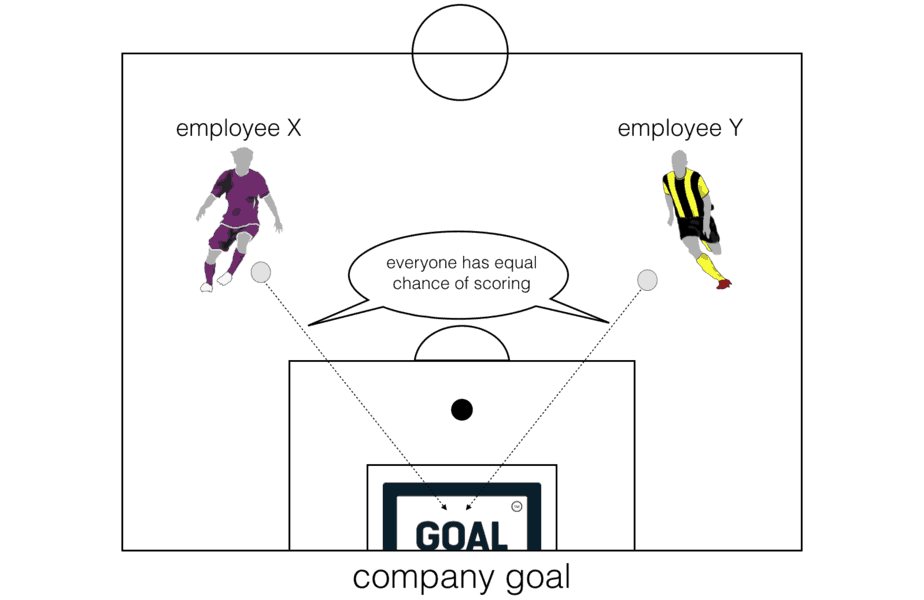 Nod if this scenario sounds familiar.
You're working on project X, and your end of year pay rise, bonus and promotion hopes are all riding on the success of project X.
A colleague is working on project Y, he needs you to work on something to unblock his project. Project Y is more valuable to the company, but helping this colleague means losing progress on project X.
What do you do?
Do you do the right thing by the company and help this colleague? In the process you might lose the pay rise, bonus and promotion that you have worked so hard for?
Or do you put his request on the backlog and focus on project X?
Hello, conflict of interest.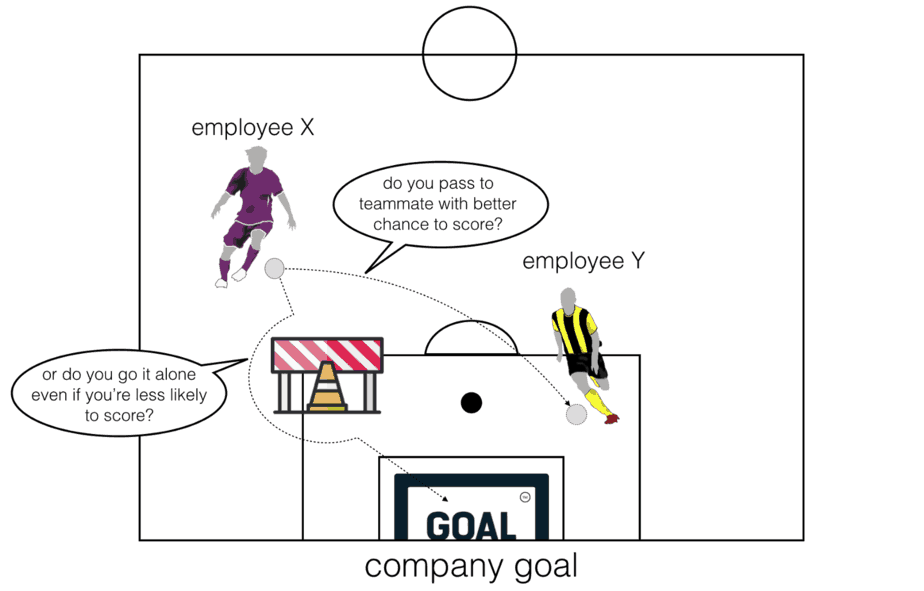 Teamwork requires willing sacrifice.
In football, a "team player" carries the connotation of being willing to sacrifice oneself for the team. Be it risking injury in a 50–50 challenge, or passing to a teammate who's more likely to score.
How do you translate this to the work place? How do you encourage people to make willing sacrifices for the good of the company?
You have to start by being honest about this conflict of interest.
Your employees are not saints, they are flesh and blood with real world problems. What if they need the pay rise to start a family? And what's wrong with wanting career progression?
Employees have every right to act in their best interest. It is your job as employer to create an environment where employees are not penalised for making self-sacrifice.
Space Ape Games does this in several ways.
The biggest one is to separate personal objectives & 360 reviews from performance & salary reviews.
Personal objectives are for your personal development only. Your manager can help you decide what areas to improve on, but the final decision is yours. You're encouraged, but not required, to set personal objectives.
360 reviews are also for you and you alone. You choose who you want feedbacks from, and how to proceed with the feedbacks you receive.
The feedbacks are anonymised, and only the manager of the reviewer can see the feedbacks. This is mainly to mitigate any unnecessary tension from ill-considered feedbacks.
Your manager and the founders are also there to help you process the feedbacks if you need them.
Performance and salary reviews are based on what you actually contributed to, not some arbitrary targets that were set months ago.
This unusual way of working started with a frank discussion about this conflict of interest. It has been iterated upon over time and will continue to evolve. It's been such a fresh breath of air for me to work for a company that not only recognizes the problem but actively seeks to tackle it.
Marry creativity with ownership
To cultivate creativity from the whole company, we use one or two days every month for Ape Space. Which is a time for game jams and hackathons.
The game jams generate ideas to feed the top end of our creative funnel. Everyone can come up with ideas for new games. You have the ownership and responsibility to polish your idea and pitch it to the rest of the company.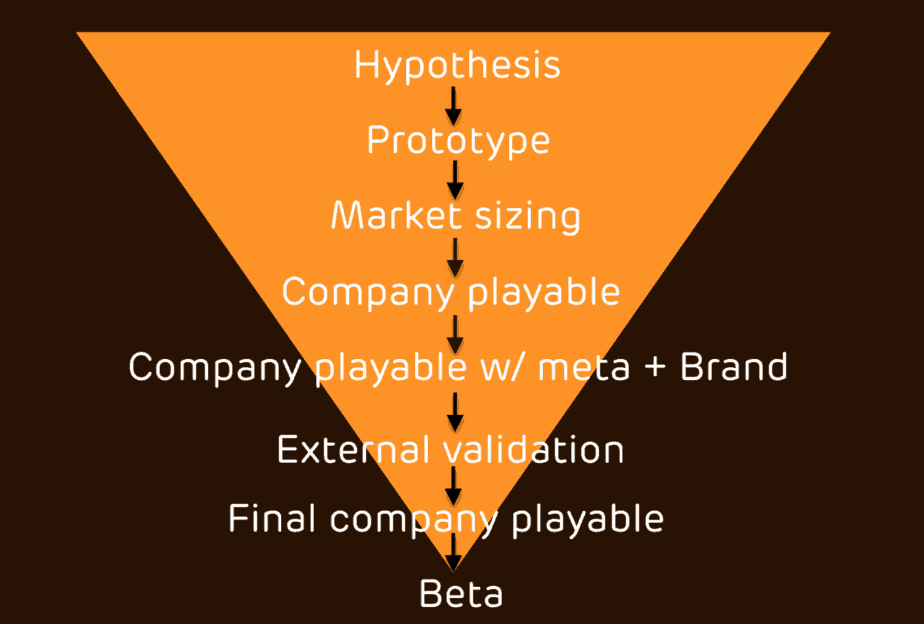 Teams form organically around ideas that we're excited about and believe can be top grossing. This is NOT a top-down decision.
The founders are there to offer guidance and help with personnel movement. Whilst your idea might be great, the founders can guide you on shaping the idea to fit our mission.
Is it economically feasible to build?
What is the market competition like? Is the genre saturated with high quality offerings already? Does this genre have top grossing potential?
Do we have the technical expertise to build it? If not, how difficult is it to hire those expertise?
Creativity needs to be guided, and hypothesis needs to be tested.
The teams that form around an idea would focus on prototyping and iterating on the idea. The idea becomes a playable game, and the rest of the company would play and provide feedback.
The team owns the idea, and is trusted with making the decisions to keep going or kill it if they no longer believe in it. Again, this is NOT a top-down decision, the decision is with the team and the team ONLY.
Which brings us to the next point.
Recognize that creativity requires mistakes
Creativity needs failures to succeed.
Being creative and experimenting with new ideas means taking on risks. If you don't risk you will not win big, at least not without the marketing budget and brand that goes with established brands.
To let teams take on risk, and to trust them to make the right decision on the company's behave to kill a prototype is hard.
For this to happen, you need an environment where employees are not penalised for making self-sacrifice.
At Space Ape Games, we do this by creating a safety net for jobs.
Your job is not tied to the prototype. If a team decides to kill its idea then the team members would move into other game teams, or they'll stay together and prototype another game idea.
To prove this approach works beyond our scale, consider Supercell and Clash Royale. The team behind Clash Royale was working on another idea before it. The idea tested well in beta, it had good retention and monetization stats. But it was not great, certainly not on par with Clash of Clans.
The team made the decision to kill the idea because they believed they can do better. So they took the learnings from the previous game, iterated on the ideas further and then created Clash Royale.
We recognize that people and their talents are our greatest assets. We choose to hire and keep great people over hire and keep roles. After all, we have more ideas we want to prototype than we have people to build them!
The safety net also applies to live games that goes into liveops mode.
Conclusions
So there you have it. 7 things that I learnt from my time at Space Ape Games, one of the best run companies that I have encountered. It has a clear idea for who they want to be, and organizes itself to become that company.
As much as I love the ethos on small autonomous teams and a flat organizational structure. At this stage of my career I am accustomed to having a wide range of responsibilities and I crave it.
The opportunity to join Space Ape Games and experience this great culture was too great. But as time went by I felt that itch for more responsibility creeping back. When my old friend Bruno Tavares pitched me the idea of joining DAZN and all the things they're doing, it was hard to say no.
So with a heavy heart, this is my farewell letter to Space Ape Games and the great people within. You guys are truly special!
If you want to work with Scala and build fun games whilst tackling challenging technical problems, then Space Ape Games is hiring. Check out their careers page to see the job specs.