Months of work has final­ly bore fruit as my sec­ond game goes into pub­lic beta! Come and join in on the fun, it's nice here:
Go on! Try it out! Let us know what you think, your feed­backs are much appre­ci­at­ed!
About the Game
Super­Fun­Town is a city build­ing game where you assume the role of a may­or, entrust­ed with the task of bring­ing a rur­al town into a city buzzing with life! You'll find all the famil­iar game mechan­ics such as zoom­ing, build­ing items, col­lect­ing items, and much more!
In Super­Fun­Town you are giv­en all the free­dom to cus­tomize and make the town tru­ly your own. You have the options to rotate any­thing in your see and you can even cus­tomize the look of your hous­es by paint­ing the walls and roofs to match the theme of your town.
And it wouldn't be a social game if you can't inter­act with oth­ers, would it? Luck­i­ly, there are ample oppor­tu­ni­ties for you to inter­act with friends here ;-), you can invite them to live and work in your town; you can go vis­it their town and help them out by bring­ing donuts to work­ers in their shops and fac­to­ries; you can send and receive nice gifts; hell, you can even kick them out of your hous­es if you real­ly want­ed!!
Screenshots
The wel­come screen, where you can change the name of your town and get help on the rules of the game.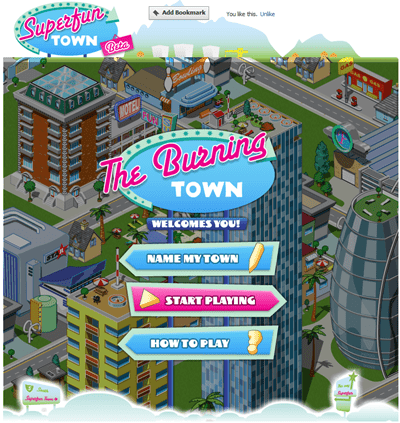 You start off with a rur­al town with a farm house and some fields.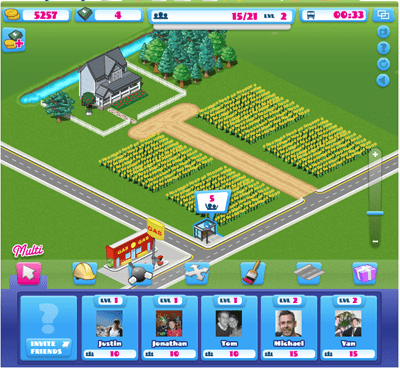 As your town expands and your stature as a may­or grows, you get to build attrac­tions, shops, fac­to­ries, hous­es, etc. You can even invite a friend to live and work in your town!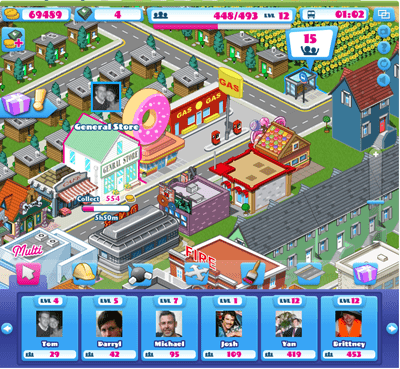 You can zoom right in and see your town in close quar­ters.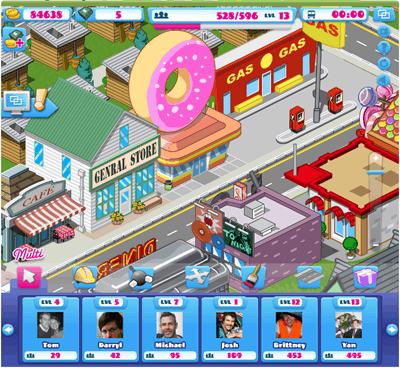 You can stock your shops with goods and stocks which in time will make you a prof­it, and you even get a bonus if a friend is work­ing in your shop! :-)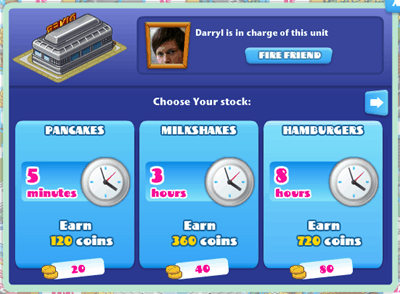 You can also vis­it a friend's town, and give donuts to the men and women work­ing there, and boost their pro­duc­tiv­i­ty!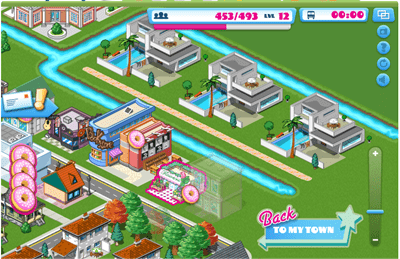 Peo­ple from far and beyond will love to come and live in your town, and they will arrive in a steady stream on bus­es, but as your town becomes more advanced, you can upgrade the trans­port of choice from bus­es to planes!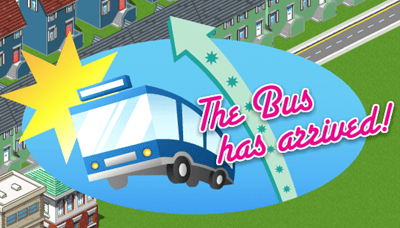 There's a wide range of hous­es, shops for you to choose from, and more will be avail­able as you lev­el up.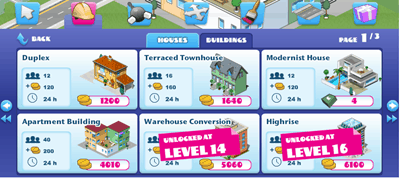 And don't for­get, as a may­or you need to pro­vide social infra­struc­tures for your res­i­dents so your town can con­tin­ue its growth.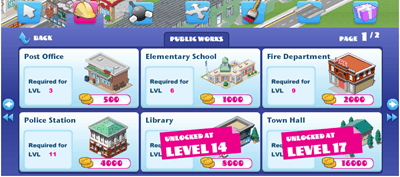 And, you can even cus­tomize the look of your hous­es, go on, let the artist in you go wild!