Quite a few peo­ple have asked me about my trip to Tokyo recent­ly and to see some pic­tures, so here's a com­plete­ly non-tech­ni­cal post about my expe­ri­ence there! Hope­ful­ly this will help your plan­ning if you're look­ing to vis­it Japan in the near future.
Airports
There are two inter­na­tion­al air­ports for Tokyo – Nari­ta and Hane­da. Nari­ta is about 1hr 30mins from Tokyo city cen­tre by train whilst Hane­da is about 30 mins away.
We stayed in Shim­bashi, which is one direct train jour­ney away from both air­ports. It's also very close to a num­ber of notable attrac­tions such as the Impe­r­i­al Palace, Tokyo Tow­er and Tsuk­i­ji Fish Mar­ket.
There are also coach­es that can take you direct­ly to a num­ber of hotels in Tokyo includ­ing Park Hotel Tokyo where we stayed.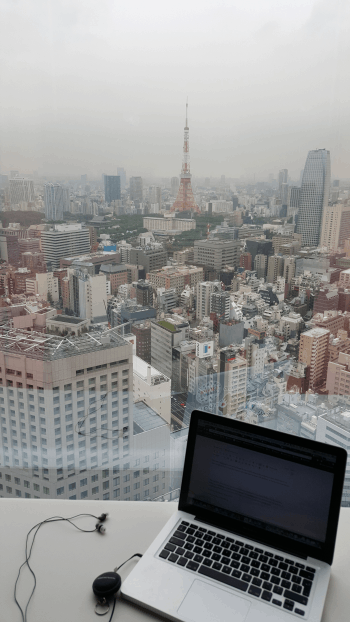 We had a good view of the Tokyo Tow­er from our room and it's quite a sight at night.
Wifi
There aren't many pub­lic Wifi spots (though you can find them in Star­bucks and oth­er cafes), but you can rent a mobile wifi egg at both Nari­ta and Hane­da air­port for about £7-£8 a day. You get real­ly good speed with these and they work on the under­ground as well.
Tokyo F# user group
On the day I arrived I actu­al­ly met up with the Tokyo F# user group and gave a talk on F# at Gamesys. Big thanks to Yuk­i­tos for set­ting it up and the guys for attend­ing!
If any of you F# folks find a chance to vis­it Japan you should def­i­nite­ly hook up with these guys too, they showed off some inter­est­ing stuff they've been work­ing on.
I was too jet-lagged and brain-dead that it didn't even occur to me to get a snap with the group

I had just trav­elled back to Lon­don from Poly­conf; jour­neyed across Lon­don from Luton to Heathrow; then took a 16hr flight to Tokyo with a 2hr stop in Ger­many; I was bare­ly func­tion­ing by the time I got to the meet­up.
In hind­sight I should have met the guys maybe a day lat­er so I'm in bet­ter shape and am able to join them for a beer or two after­wards.
Food
The food in Tokyo was not as expen­sive as we imag­ined, you can get a bowl of ramen for around 800 yen (about £4) although sushi tends to be rel­a­tive­ly expen­sive.
While you're here you should def­i­nite­ly try the ramen, be warned though, they are very rich in flavour and a wee bit salty for my taste, espe­cial­ly the miso flavoured ones.
Pret­ty much every restau­rant we tried was good, many of them are tiny though, so there might only be stand­ing room.
Don't for­get to ask for a non-smok­ing seat!
Not all restau­rants have a non-smok­ing areas but it doesn't hurt to ask. It's not a pleas­ant expe­ri­ence to be sand­wiched between two groups of chain-smok­ing Japan­ese men whilst you're try­ing to enjoy your meal…
If you go in the sum­mer, it's also worth try­ing out the Buck­wheat noo­dle which is usu­al­ly served cold with a bowl of soup or soy sauce to eat it with. In 30 degrees heat, this is sur­pris­ing­ly refresh­ing!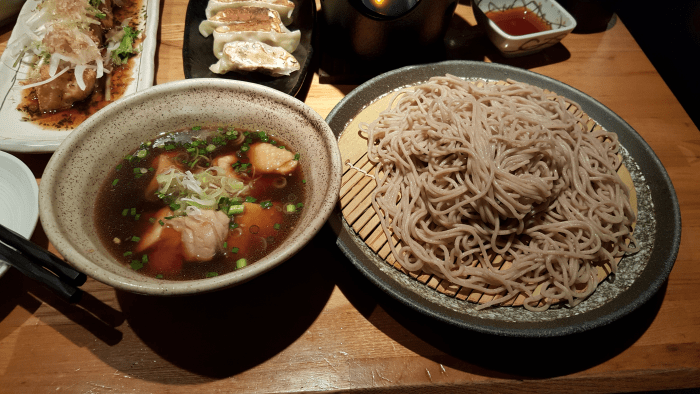 And then there's the bento/set meals that you tend to get at lunch time. Again, these are real­ly afford­able and gen­er­al­ly good qual­i­ty and just enough for one per­son.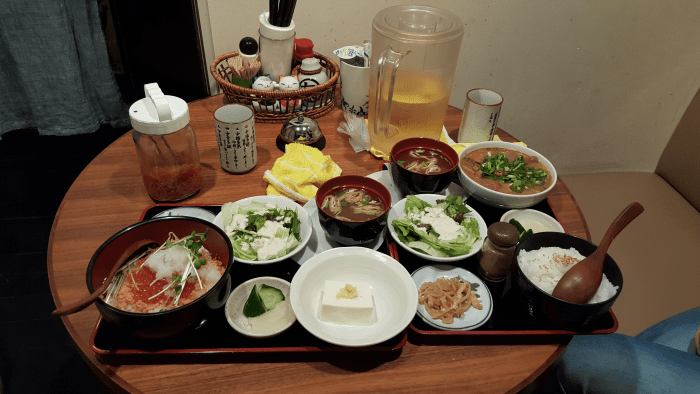 We didn't see any small food stands on the street (like in Seoul and Tai­wan) but then again, you're nev­er more than a few mins walk from a restau­rant, so find­ing a place to eat is nev­er an issue in Tokyo.
Tsukiji Fish Market
If you go to Tsuk­i­ji fish mar­ket real­ly ear­ly (say, 6am) then you can see the salmon auc­tions. It wasn't our thing so we just explored the near­by restau­rants for some fresh seafood for lunch and boy they didn't dis­ap­point!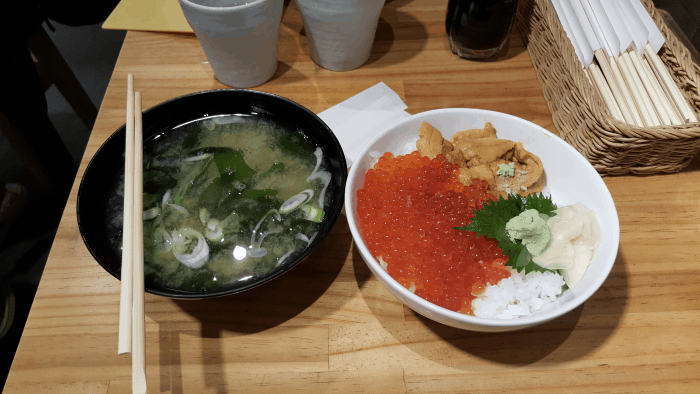 Many of the restau­rants have sim­i­lar dish­es – main­ly rice with sashimi/fish roe/etc., but prices can dif­fer by up to 20~25%.
Some places claim to have no-tax, but what they real­ly mean is that the prices on the menu do not include tax, but they still charge you ~7% tax on the final bill.
In the out­er mar­ket, there are also lots of small food stands where you can buy grilled seafood/fresh oyster/etc., there was even a shop that sells king crab legs (though it's one of the more expen­sive things you'll find there).
Oh, and this place gets real­ly real­ly busy on week­ends so avoid going there on Sat­ur­days and Sun­days if you can!
Ghibli Museum
We real­ly want­ed to vis­it the Ghi­b­li muse­um just out­side of Tokyo, hav­ing grown up with so many of its clas­sic ani­me – My Neigh­bor Totoro, Por­co Rosso, Nau­si­caa of the Val­ley of the Wind, Princess Mononoke and Spir­it­ed Away to name a few.
Much to our sur­prise, it was com­plete­ly booked out for the month of July… Word of advice, book online before you trav­el if you wan­na stand a chance of get­ting in.
It's a minor con­so­la­tion that there's a big wall clock near our hotel that's mod­elled after Howl's Mov­ing Cas­tle and it "comes alive" at sev­er­al spe­cif­ic times a day.
Tokyo Tower
This is Japan's answer to the Eif­fel Tow­er, and I'm sor­ry to say that it's a fair­ly weak answer at that – the view is just not com­pa­ra­ble to the Eif­fel Tow­er unfor­tu­nate­ly.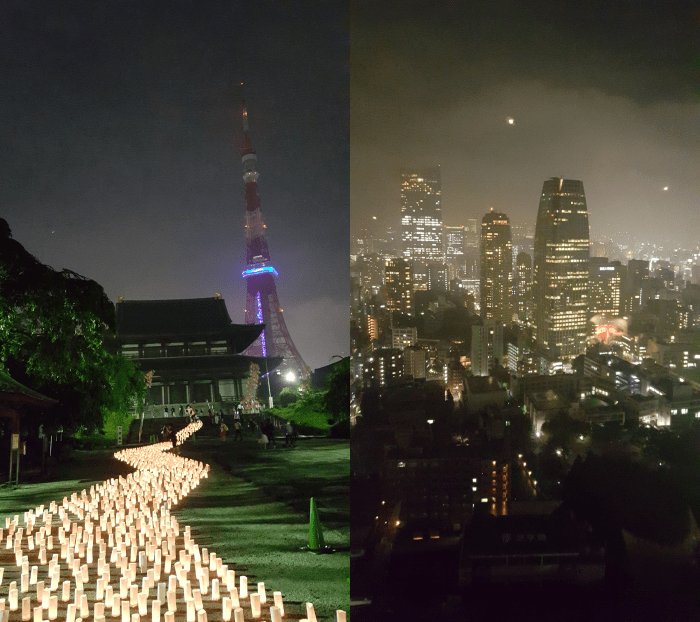 Meijin Shrine
A short walk from Yoyo­gi sta­tion is the Mei­jin Shrine, which is sit­u­at­ed right next to the Nation­al Park. The whole area is cov­ered with these great big trees and extreme­ly well pre­served.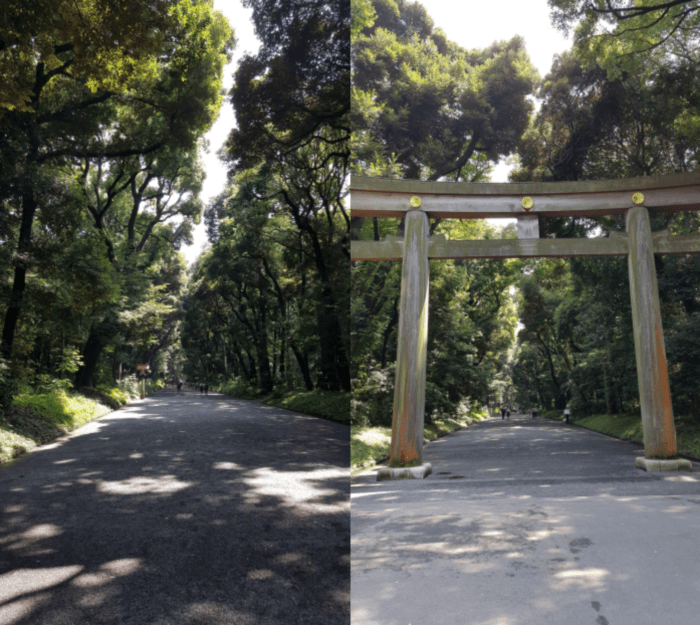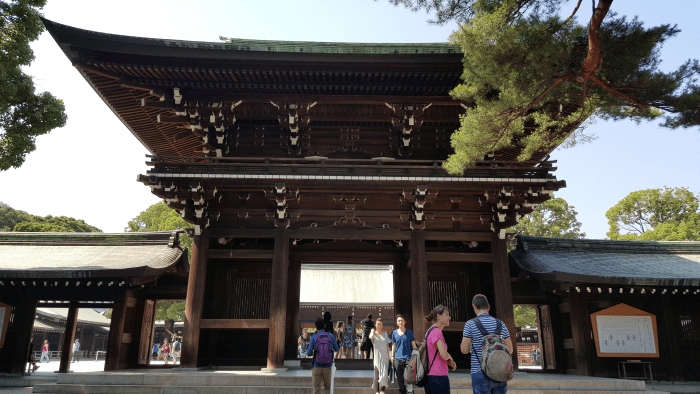 Once inside, you can buy charms as well as a wood­en board to write down your wish­es.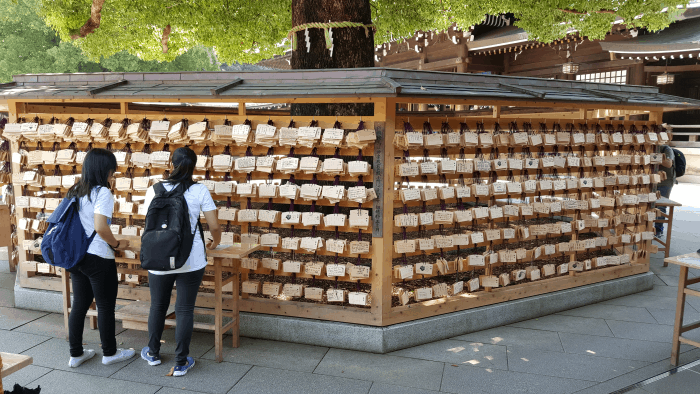 The sou­venir shop also sells quite a few vari­ety of local­ly pro­duced tea in dif­fer­ent forms – tea leaves, tea bags as well as pow­der. I've nev­er tried mak­ing tea from pow­der before but it's real­ly con­ve­nient and you can also make cold/ice tea from them too. Now that I've had a taste, I wish I had bought a few more bags of them at the time.
If you find green tea's flavour a lit­tle too strong, you might wan­na try the roast­ed brown rice tea which has a milder flavour but still has that nice aro­ma that green tea has – yeah, I love my tea!

Sanjo Shrine
Com­pared to the Mei­jin Shrine, the San­jo Shrine feels much more touristy – a long stretch of road lead­ing to the shrine is lined with end­less sou­venir shops and food stands.
I didn't enjoy it very much (but I still couldn't help myself and bought some snacks and sou­venirs along the way, oh the shame…), as it was crowd­ed and feels very com­mer­cial­ized.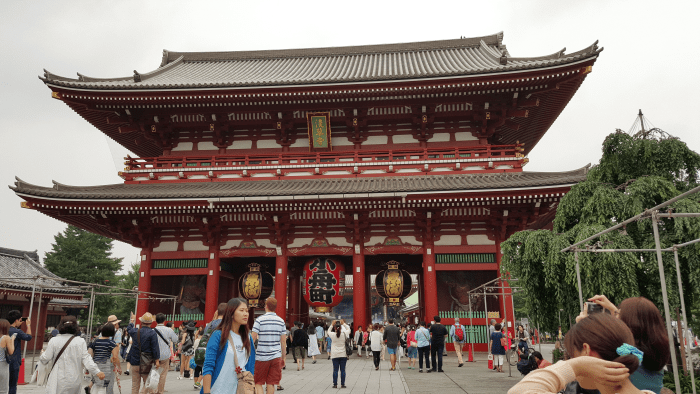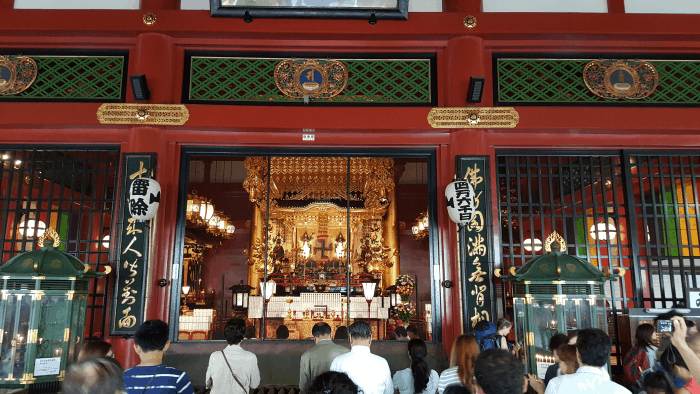 Nekorobi
Cat cafes are a big thing all over Asia, and we had to vis­it them whilst we're here. We went to two cat cafes near Ike­bukuro sta­tion, and Neko­ro­bi is the old­est and most famous one in Tokyo (or so the hotel staff tells us).
Neko­ro­bi costs 1000 yen (rough­ly £5) for the first hour (drinks are includ­ed) and is basi­cal­ly the size of an apart­ment.
We got there ear­ly (around lunch time when it opens) and man­aged to enjoy some qual­i­ty time with the cats before oth­er peo­ple start­ed to show up.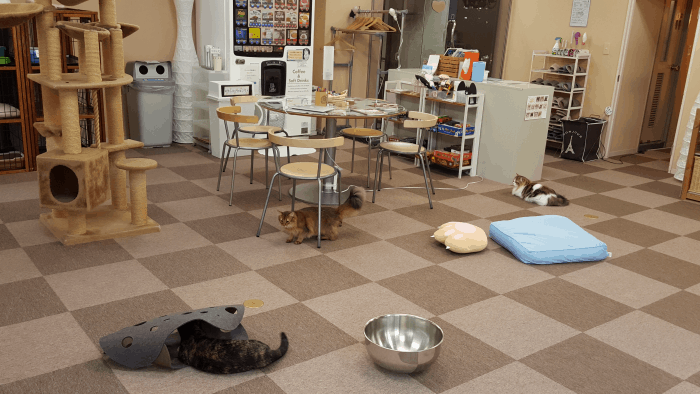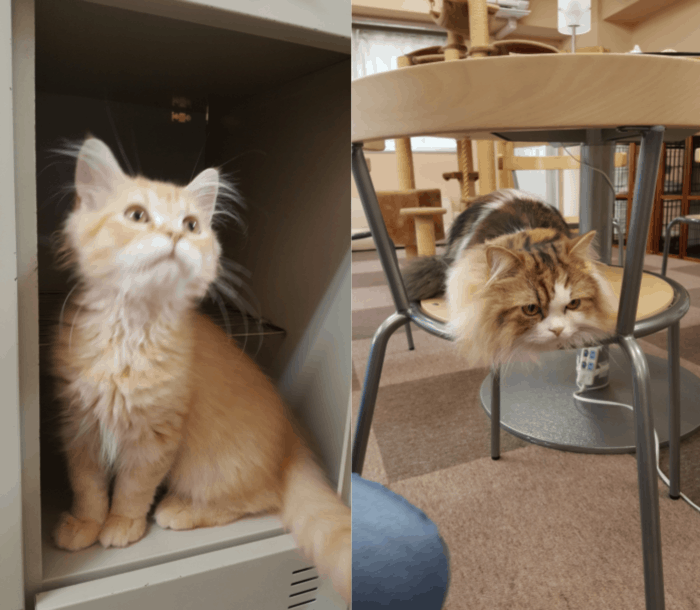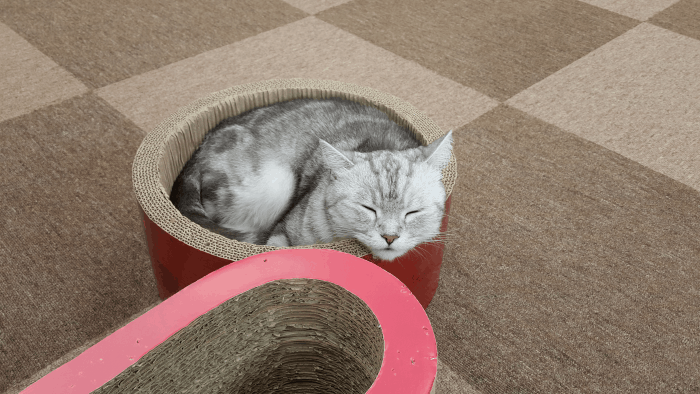 The cats, as they do, spend most of their time sleep­ing and ignor­ing us.

They're very approach­able though and didn't mind us pet­ting them at all. How­ev­er, they didn't fan­cy play­ing, except for this lit­tle cutie whom took a real lik­ing to us!
Nekono iru kyukeisho Nikukyu (299)
This place is big, and with lots of cats sleep­ing and won­der­ing around. There are lots of man­ga and books on the shelves (all in Japan­ese unfor­tu­nate­ly) and most peo­ple there are just chill­ing out, drink­ing free cof­fee and read­ing.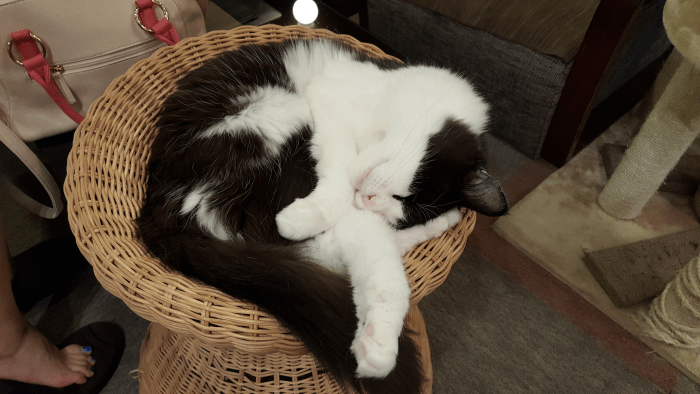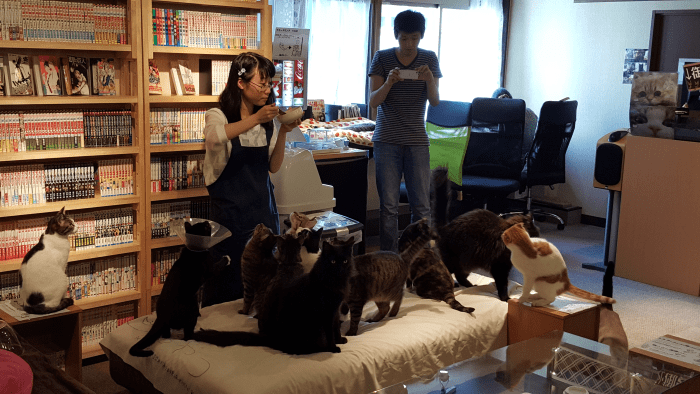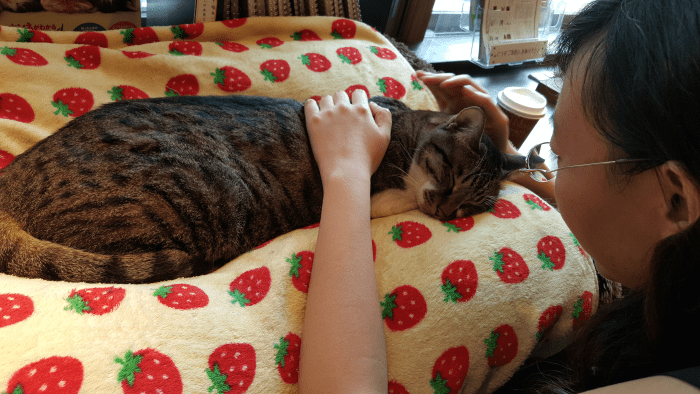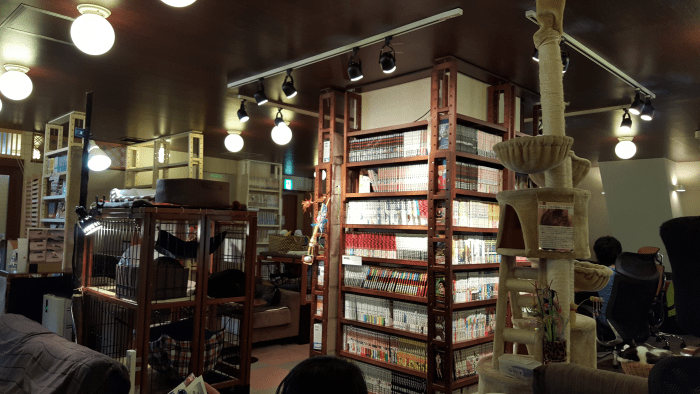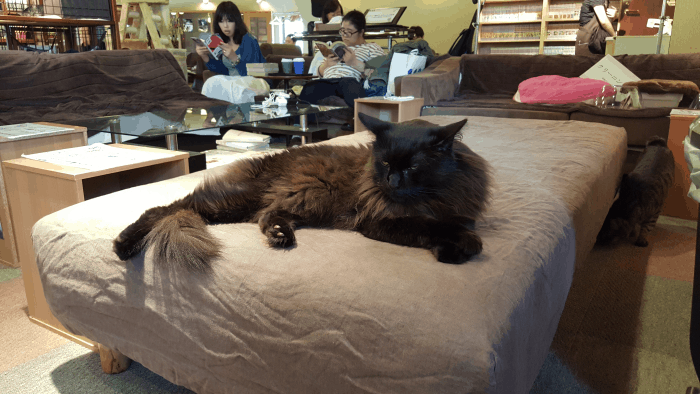 It's slight­ly more expen­sive com­pared to Neko­ro­bi – 200 yen (£1) per 10 mins + extra if you want drinks as well. If you pay anoth­er 500 yen (around £3) you can also have the hon­our of feed­ing the cats treats and watch them swamp all around you!
Overall Impression
We real­ly enjoyed our time there, Tokyo is a love­ly city, every­thing is very clean and tidy. The trains are always on time, clean and well air-con­di­tioned (I hadn't realise how dirty the Lon­don under­ground trains are until I got back and noticed the stark con­trast).
Lan­guage can be a bar­ri­er, many peo­ple in the shops didn't speak Eng­lish but we man­aged to get by with Chi­nese (it was the same when we were in Seoul as well, a side-effect of the grow­ing mid­dle-class in Chi­na I sup­pose)
And as if to wel­come me back to my famil­iar sur­round­ings, on the jour­ney back home we saw this in the tube sta­tion. Yup, I'm def­i­nite­ly home!