Presently sponsored by Serverless Guru:
Your guide to cloud excellence, helping you every step of your serverless journey, including team training, pattern development, mass service migrations, architecting, and developing new solutions.
Speak to a Guru today
.
Quite a few people have asked me about my trip to Tokyo recently and to see some pictures, so here's a completely non-technical post about my experience there! Hopefully this will help your planning if you're looking to visit Japan in the near future.
Airports
There are two international airports for Tokyo – Narita and Haneda. Narita is about 1hr 30mins from Tokyo city centre by train whilst Haneda is about 30 mins away.
We stayed in Shimbashi, which is one direct train journey away from both airports. It's also very close to a number of notable attractions such as the Imperial Palace, Tokyo Tower and Tsukiji Fish Market.
There are also coaches that can take you directly to a number of hotels in Tokyo including Park Hotel Tokyo where we stayed.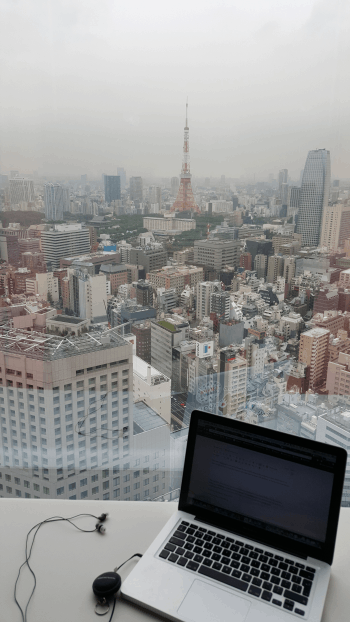 We had a good view of the Tokyo Tower from our room and it's quite a sight at night.
Wifi
There aren't many public Wifi spots (though you can find them in Starbucks and other cafes), but you can rent a mobile wifi egg at both Narita and Haneda airport for about £7-£8 a day. You get really good speed with these and they work on the underground as well.
Tokyo F# user group
On the day I arrived I actually met up with the Tokyo F# user group and gave a talk on F# at Gamesys. Big thanks to Yukitos for setting it up and the guys for attending!
If any of you F# folks find a chance to visit Japan you should definitely hook up with these guys too, they showed off some interesting stuff they've been working on.
I was too jet-lagged and brain-dead that it didn't even occur to me to get a snap with the group

 I had just travelled back to London from Polyconf; journeyed across London from Luton to Heathrow; then took a 16hr flight to Tokyo with a 2hr stop in Germany; I was barely functioning by the time I got to the meetup.
In hindsight I should have met the guys maybe a day later so I'm in better shape and am able to join them for a beer or two afterwards.
Food
The food in Tokyo was not as expensive as we imagined, you can get a bowl of ramen for around 800 yen (about £4) although sushi tends to be relatively expensive.
While you're here you should definitely try the ramen, be warned though, they are very rich in flavour and a wee bit salty for my taste, especially the miso flavoured ones.
Pretty much every restaurant we tried was good, many of them are tiny though, so there might only be standing room.
Don't forget to ask for a non-smoking seat!
Not all restaurants have a non-smoking areas but it doesn't hurt to ask. It's not a pleasant experience to be sandwiched between two groups of chain-smoking Japanese men whilst you're trying to enjoy your meal…
If you go in the summer, it's also worth trying out the Buckwheat noodle which is usually served cold with a bowl of soup or soy sauce to eat it with. In 30 degrees heat, this is surprisingly refreshing!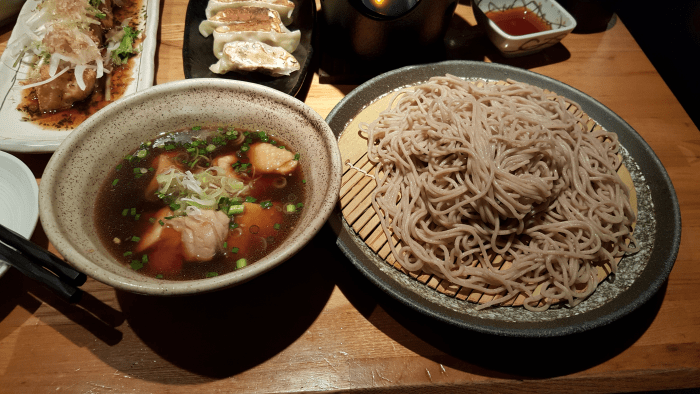 And then there's the bento/set meals that you tend to get at lunch time. Again, these are really affordable and generally good quality and just enough for one person.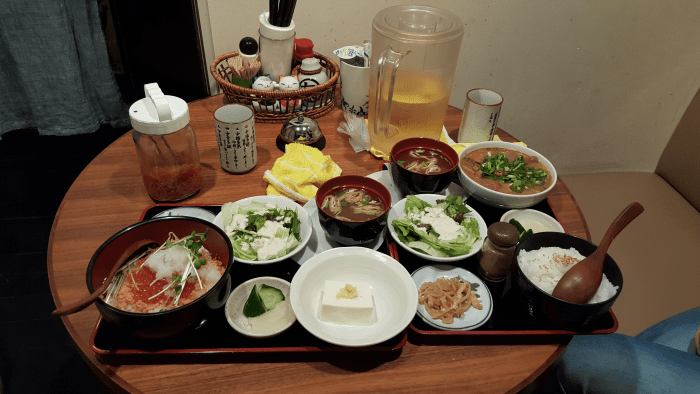 We didn't see any small food stands on the street (like in Seoul and Taiwan) but then again, you're never more than a few mins walk from a restaurant, so finding a place to eat is never an issue in Tokyo.
Tsukiji Fish Market
If you go to Tsukiji fish market really early (say, 6am) then you can see the salmon auctions. It wasn't our thing so we just explored the nearby restaurants for some fresh seafood for lunch and boy they didn't disappoint!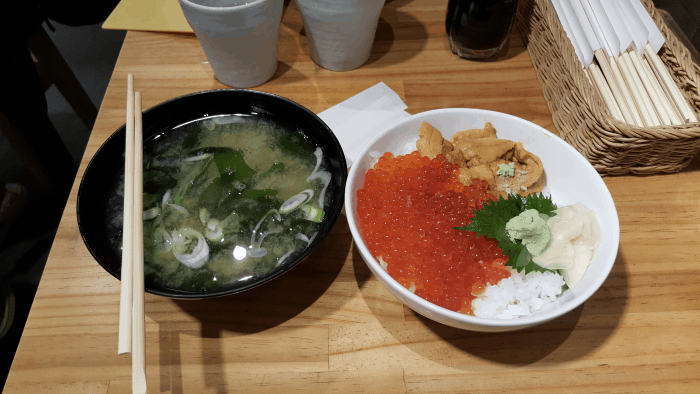 Many of the restaurants have similar dishes – mainly rice with sashimi/fish roe/etc., but prices can differ by up to 20~25%.
Some places claim to have no-tax, but what they really mean is that the prices on the menu do not include tax, but they still charge you ~7% tax on the final bill.
In the outer market, there are also lots of small food stands where you can buy grilled seafood/fresh oyster/etc., there was even a shop that sells king crab legs (though it's one of the more expensive things you'll find there).
Oh, and this place gets really really busy on weekends so avoid going there on Saturdays and Sundays if you can!
Ghibli Museum
We really wanted to visit the Ghibli museum just outside of Tokyo, having grown up with so many of its classic anime – My Neighbor Totoro, Porco Rosso, Nausicaa of the Valley of the Wind, Princess Mononoke and Spirited Away to name a few.
Much to our surprise, it was completely booked out for the month of July… Word of advice, book online before you travel if you wanna stand a chance of getting in.
It's a minor consolation that there's a big wall clock near our hotel that's modelled after Howl's Moving Castle and it "comes alive" at several specific times a day.
Tokyo Tower
This is Japan's answer to the Eiffel Tower, and I'm sorry to say that it's a fairly weak answer at that – the view is just not comparable to the Eiffel Tower unfortunately.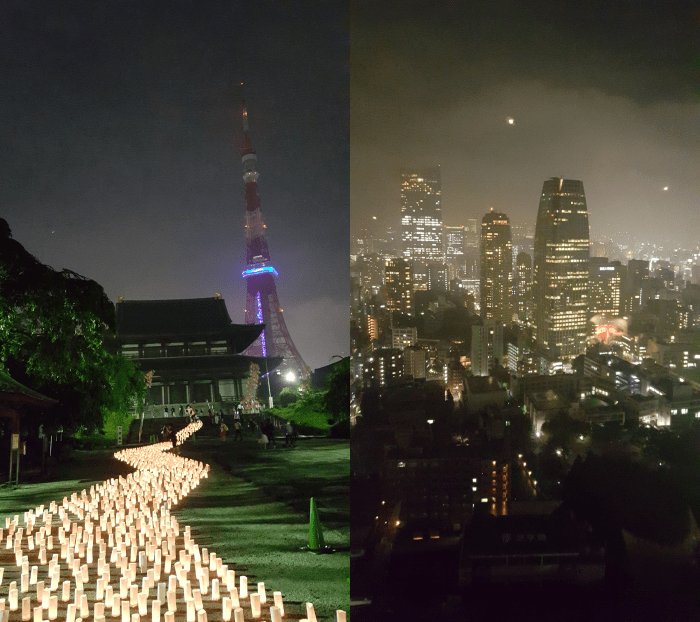 Meijin Shrine
A short walk from Yoyogi station is the Meijin Shrine, which is situated right next to the National Park. The whole area is covered with these great big trees and extremely well preserved.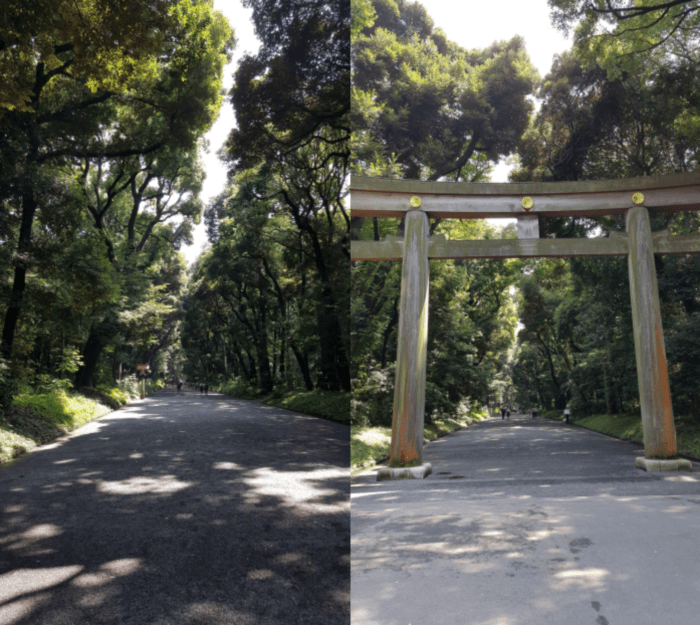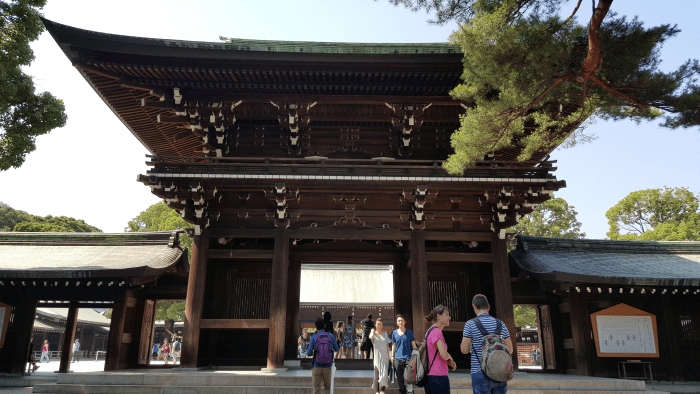 Once inside, you can buy charms as well as a wooden board to write down your wishes.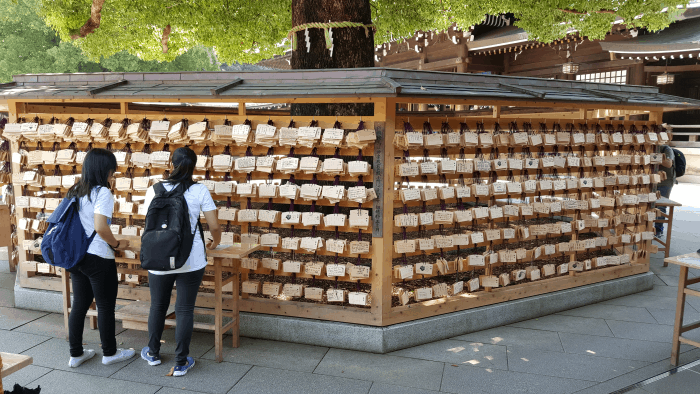 The souvenir shop also sells quite a few variety of locally produced tea in different forms – tea leaves, tea bags as well as powder. I've never tried making tea from powder before but it's really convenient and you can also make cold/ice tea from them too. Now that I've had a taste, I wish I had bought a few more bags of them at the time.
If you find green tea's flavour a little too strong, you might wanna try the roasted brown rice tea which has a milder flavour but still has that nice aroma that green tea has – yeah, I love my tea! 

Sanjo Shrine
Compared to the Meijin Shrine, the Sanjo Shrine feels much more touristy – a long stretch of road leading to the shrine is lined with endless souvenir shops and food stands.
I didn't enjoy it very much (but I still couldn't help myself and bought some snacks and souvenirs along the way, oh the shame…), as it was crowded and feels very commercialized.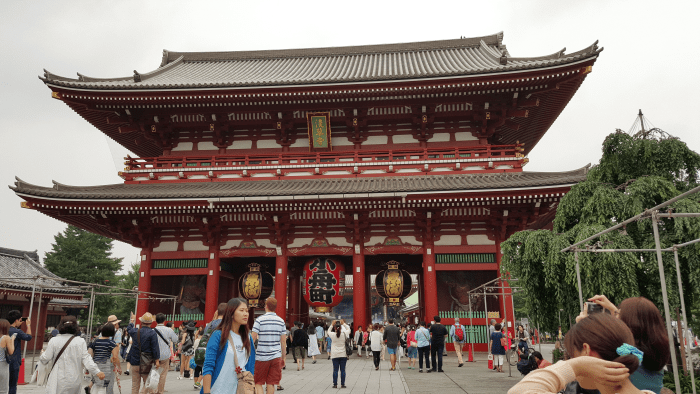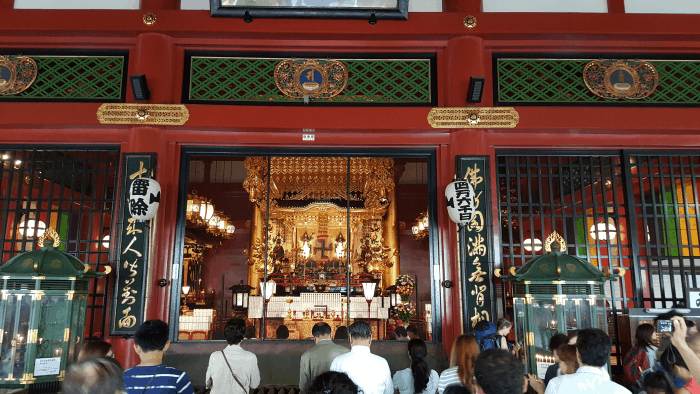 Nekorobi
Cat cafes are a big thing all over Asia, and we had to visit them whilst we're here. We went to two cat cafes near Ikebukuro station, and Nekorobi is the oldest and most famous one in Tokyo (or so the hotel staff tells us).
Nekorobi costs 1000 yen (roughly £5) for the first hour (drinks are included) and is basically the size of an apartment.
We got there early (around lunch time when it opens) and managed to enjoy some quality time with the cats before other people started to show up.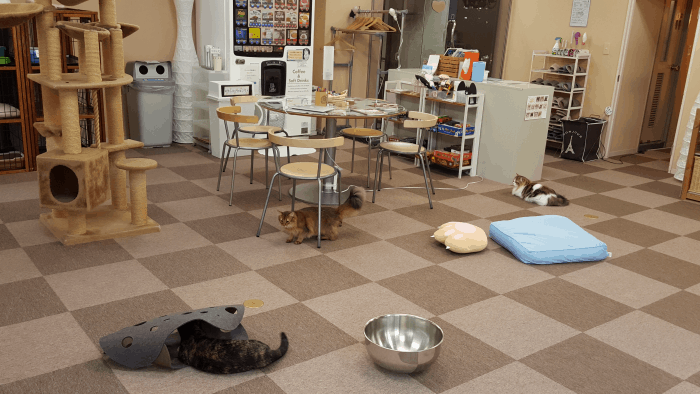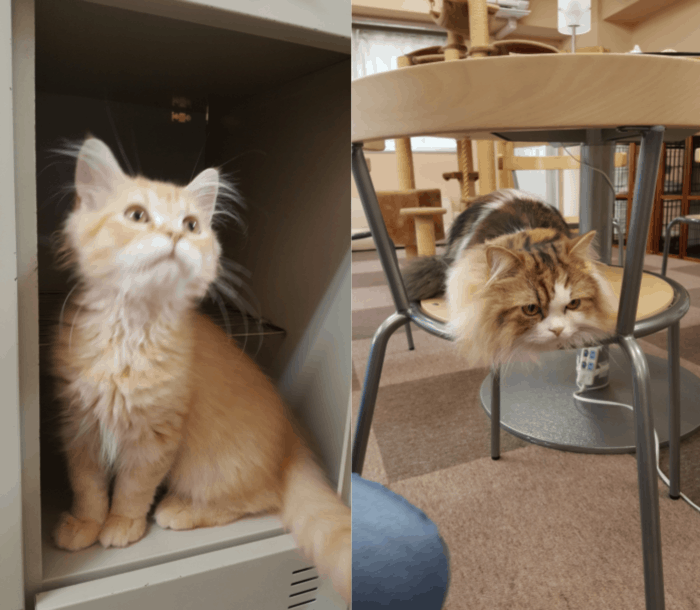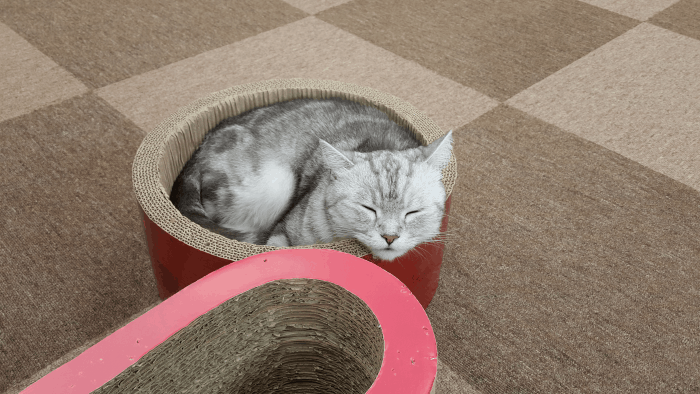 The cats, as they do, spend most of their time sleeping and ignoring us.

 They're very approachable though and didn't mind us petting them at all. However, they didn't fancy playing, except for this little cutie whom took a real liking to us!
Nekono iru kyukeisho Nikukyu (299)
This place is big, and with lots of cats sleeping and wondering around. There are lots of manga and books on the shelves (all in Japanese unfortunately) and most people there are just chilling out, drinking free coffee and reading.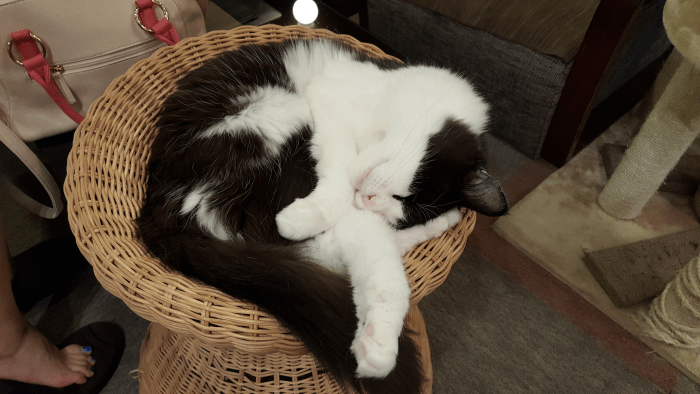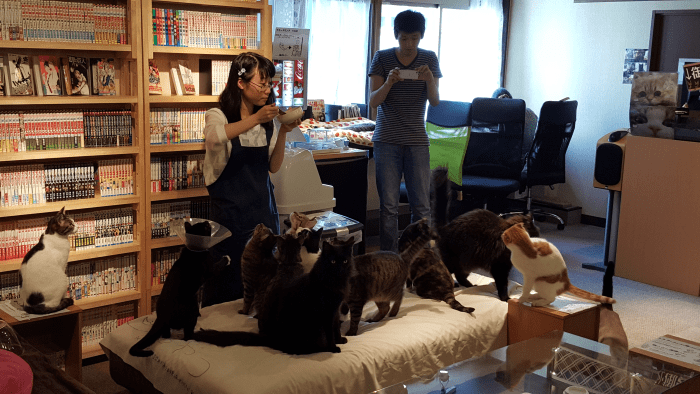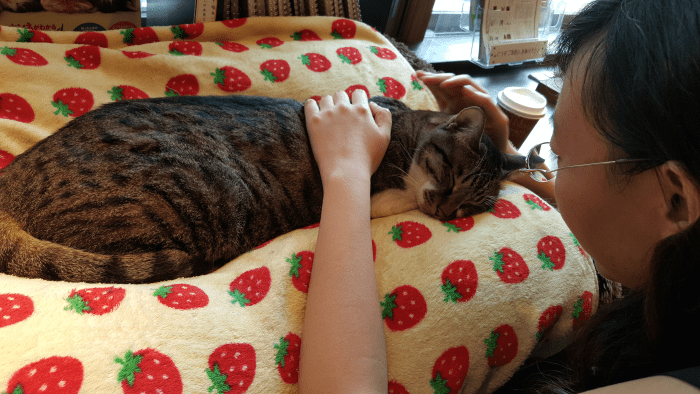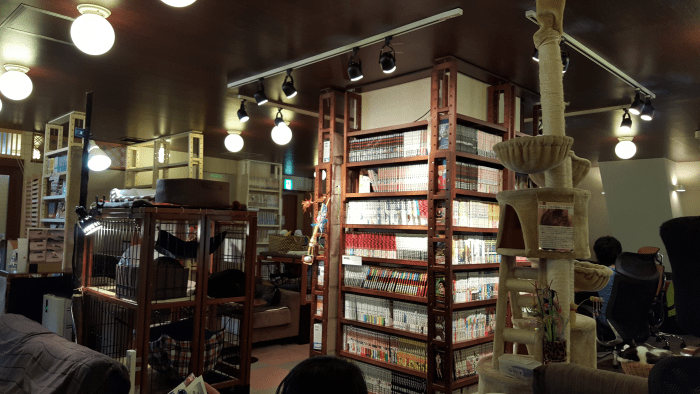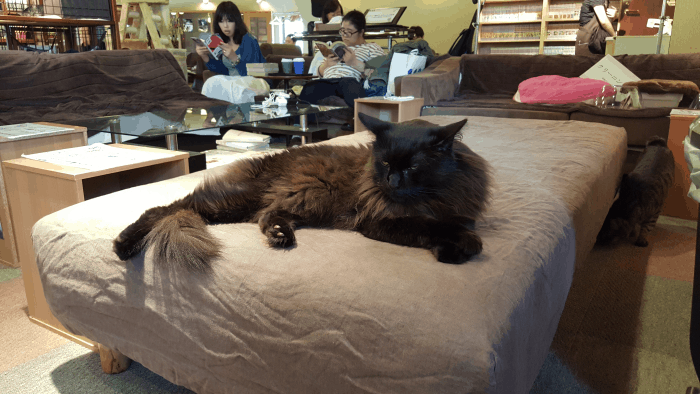 It's slightly more expensive compared to Nekorobi – 200 yen (£1) per 10 mins + extra if you want drinks as well. If you pay another 500 yen (around £3) you can also have the honour of feeding the cats treats and watch them swamp all around you!
Overall Impression
We really enjoyed our time there, Tokyo is a lovely city, everything is very clean and tidy. The trains are always on time, clean and well air-conditioned (I hadn't realise how dirty the London underground trains are until I got back and noticed the stark contrast).
Language can be a barrier, many people in the shops didn't speak English but we managed to get by with Chinese (it was the same when we were in Seoul as well, a side-effect of the growing middle-class in China I suppose)
And as if to welcome me back to my familiar surroundings, on the journey back home we saw this in the tube station. Yup, I'm definitely home!