Hi, wel­come to anoth­er week­ly update, which is sad­ly turn­ing into more of a month­ly update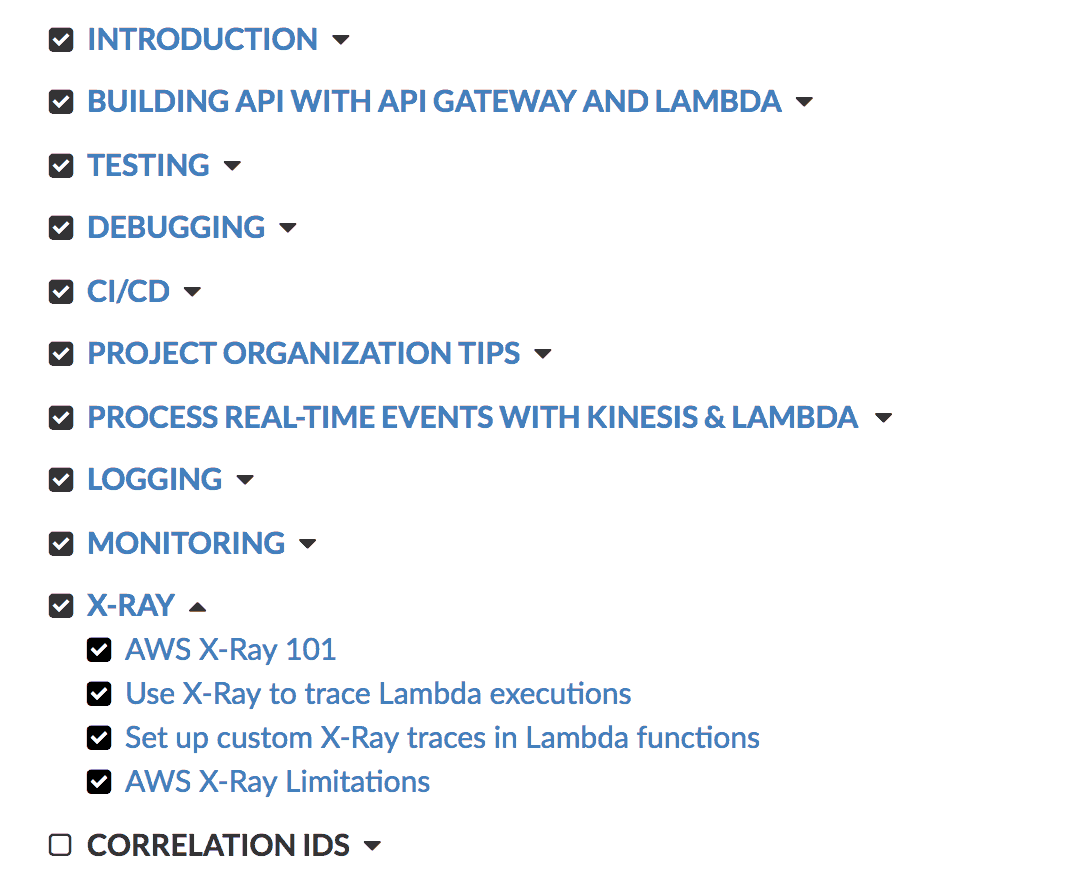 A new unit on X-Ray inte­gra­tion has been added to the MEAP (Man­ning Ear­ly Access Pro­gram) of my video course Pro­duc­tion-Ready Server­less. After a brief hia­tus, I'm back work­ing on the next unit on cor­re­la­tion IDs.
Remem­ber, whilst the course is still in the MEAP, you can get 40% off the face price using the code ytcui.
I'm con­sid­er­ing turn­ing this course into a class­room set­ting, so if you're inter­est­ed in hav­ing me run this as a work­shop lat­er on in the year, then drop me a line via the Con­tact page.
New posts
How to migrate exist­ing Mono­liths to Server­less. I shared a guide on how you can migrate an exist­ing mono­lith to server­less. I dis­cussed orga­ni­za­tion­al changes towards small, autonomous teams; how to iden­ti­fy ser­vice bound­aries; how to orga­nize your code­base; deploy­ment frame­works, grace­ful migra­tion, test­ing and resilience.
Auto-cre­ate Cloud­Watch alarms for APIs with Lamb­da. I shared a short ops automa­tion tech­nique to auto-cre­ate Cloud­Watch alarms when­ev­er you deploy a new API with API Gate­way. This way, you won't ever for­get to add those all-impor­tant alarms!
Speaking engagements
I gave a new talk on the archi­tec­tur­al changes that we're see­ing with Server­less at the revived Lon­don API meet­up last week.
Also last week, I was hon­oured to be one of the keynote speak­ers at Server­less­Days TLV where I deliv­ered a new talk on apply­ing the best parts of Microser­vices to Server­less. Record­ing of the talk (along with the oth­er talks dur­ing the day) should be avail­able on their web­site in the com­ing days.
Amaz­ing­ly, that was my 25th speak­ing engage­ment this year… but I'm not quite ready to slow down just yet as it's con­fer­ence sea­son and I have a few more meetups/conferences com­ing up in the next few weeks:
If you're inter­est­ed in hav­ing me speak about Server­less at your meet­up or con­fer­ence lat­er on in the year, then drop me a line via this page.
So that's it for anoth­er week­ly update, hope you guys have a good bank hol­i­day Mon­day!