Hi, wel­come to anoth­er week­ly update!
Welcome Binaris as our sponsor for August!
Reg­u­lar read­ers of this blog would have noticed that over the last few months I have col­lab­o­rat­ed with Bina­ris on a num­ber of blog posts, notably around server­less migra­tion pat­terns.
It's my hon­our to wel­come Bina­ris as spon­sor for this bog! Here's a short mes­sage from the good folks at Bina­ris to explain what they're build­ing and their vision for the future of FAAS.
At Bina­ris we envi­sion a world where appli­ca­tions are built out of func­tions. Func­tions are bet­ter for devel­op­ers, bet­ter for oper­a­tions and bet­ter from an infra­struc­ture view­point. Bina­ris Server­less Plat­form lets devel­op­ers use server­less func­tions for their core appli­ca­tion devel­op­ment. We believe that when devel­op­ers Think Func­tions they are faster, hap­pi­er and more pro­duc­tive.

By Think Func­tions, we mean devel­op­ers can focus on their own appli­ca­tion code. It means that we take care of many of the bur­dens that stand in the way of build­ing a scal­able cloud appli­ca­tion. It means that devel­op­ers nev­er think about servers, nev­er think about cost and nev­er think about per­for­mance.

Bina­ris invokes func­tions in mil­lisec­onds. We are 20x faster than Lamb­da and about 2x faster than tra­di­tion­al microser­vices, so you nev­er have to wor­ry about cold starts and pre-warm­ing func­tions or con­fig­ure ser­vices to colo­cate in order to achieve bet­ter response times.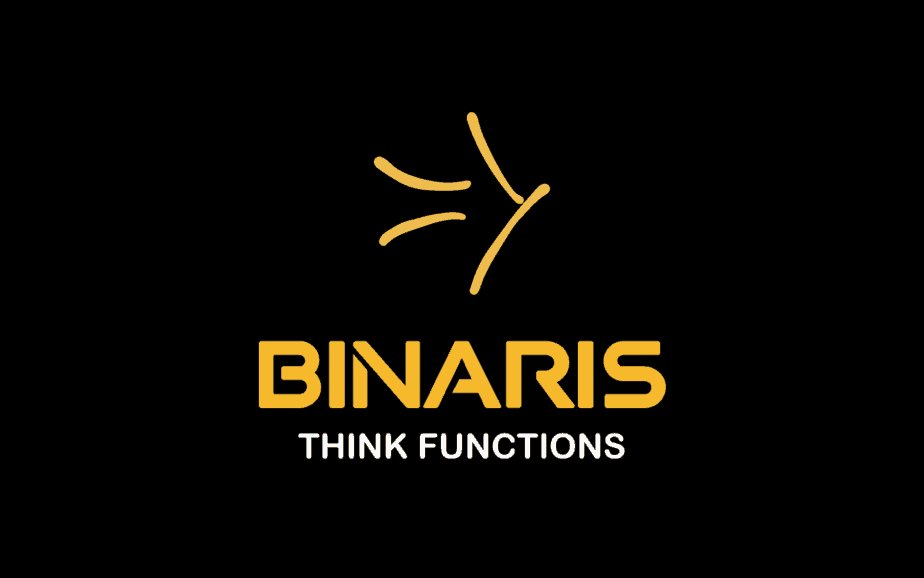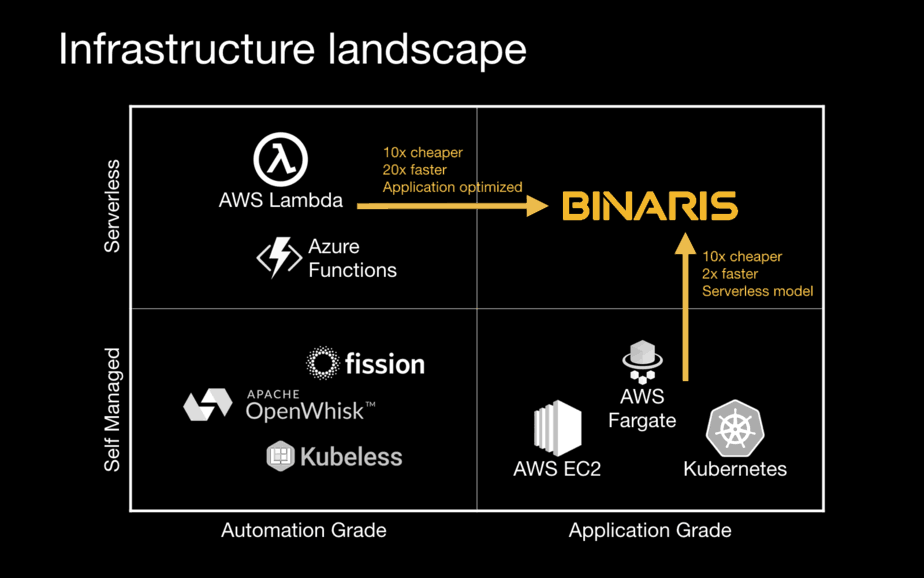 We have released 2 new videos on my video course Pro­duc­tion-Ready Server­less, this time around per­for­mance and cost opti­miza­tion.
Remem­ber, whilst the course is still in the MEAP, you can get 40% off the face price using the code ytcui. As we are approach­ing the final release of the course, we have start­ed brain­storm­ing about what top­ics we should cov­er next. I'm run­ning a poll on Twit­ter over the next cou­ple of days, let us know what you'd like me to cov­er next!
As we approach the final com­ple­tion of my video course Pro­duc­tion-Ready Server­less (just 10 more videos to shoot! ??) https://t.co/XzK7H7FSAp … we're con­sid­er­ing what to do next, let us know what top­ics you'd like me to cov­er! #server­less #aws #awslamb­da cc/ @ManningBooks

— Yan Cui (@theburningmonk) August 9, 2018
I have also turned this course into a class­room set­ting, so if you're inter­est­ed in hav­ing me run this as a work­shop in your com­pa­ny, then drop me a line via the Con­tact page.
New Posts
Step Func­tions: how to apply try-catch to a block of states. I have used AWS Step Func­tions a lot at DAZN and some­times we find our­selves in a sit­u­a­tion where I have to apply the same boil­er­plate code to catch errors from a num­ber of states. Instead, you can sim­pli­fy things by wrap­ping a block of states into a sin­gle-branched Par­al­lel state, and apply the Catch clause just once!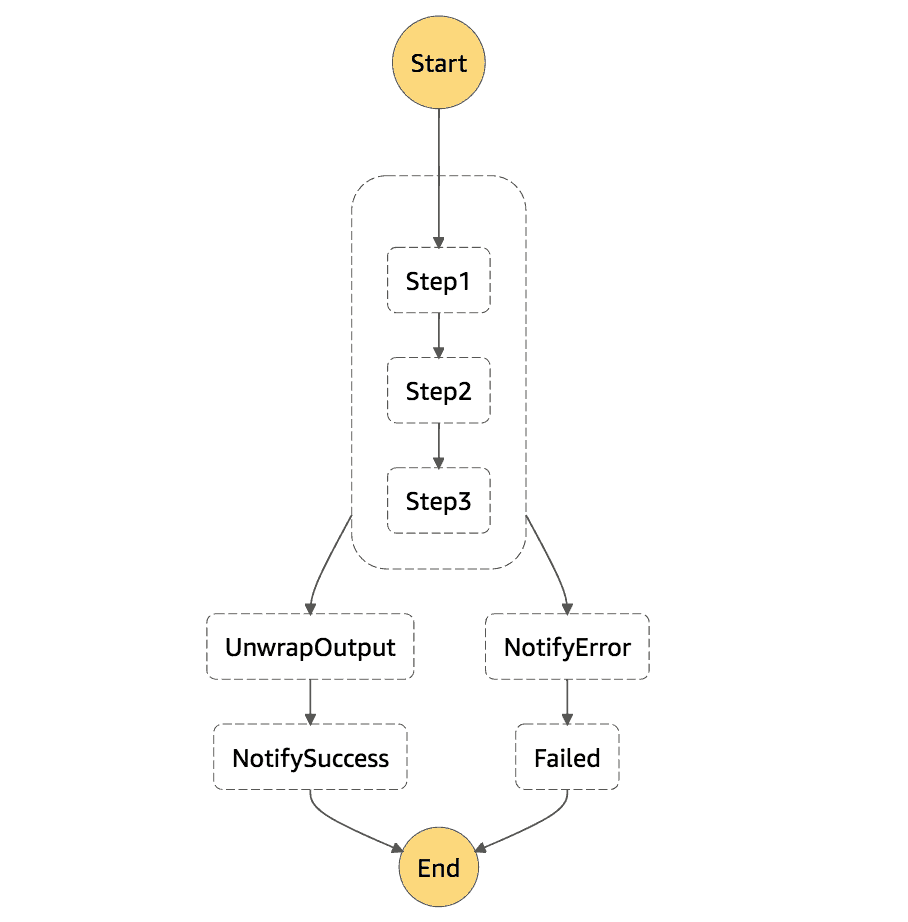 AWS Announcements
The big news this week is that Auro­ra Server­less is now gen­er­al­ly avail­able. It's an excit­ing announce­ment. But, I can't help but to feel dis­ap­point­ed that Auro­ra Server­less is still based on per­sis­tent con­nec­tions as opposed to sim­ple HTTP request-response mod­el like DynamoDB. It puts the bur­den of man­ag­ing con­nec­tion pool­ing onto my shoul­der, some­thing I would do with­out…
AWS IOT Defend­er is also gen­er­al­ly avail­able.
Elas­tic File Sys­tem (EFS) now has pro­vi­sioned through­put.
Good reads
Pat­terns for Resilient Archi­tec­tures — Part 2 by Adrien Horns­by
Server­less­Conf 2018 San Fran­cis­co: Key take­aways for the future of server­less by Andrea Pass­wa­ter
Take­aways from the Server­less­Conf SF 2018 by Erez Berkn­er
A tale of two teams by Jere­my Daly