Yup, you've heard right, finally you can have some moving parts in your town!
All you need is to build a 'Used Car Dealer' (see images below) in your town so the town folks can start buying cars to drive their kids to school or generally move around the town.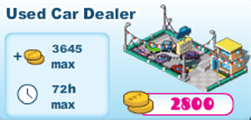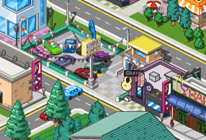 You will start seeing the 'Blue Family Car' in your town almost as soon as you've built your first 'Used Car Dealer', and if that's not exotic enough for you, you can add other cars to the road by buying the type of car you want to see from the Build menu, under Decorations and then Vehicles.
Here are the chances you have right now:

And here's some snapshots of how they look in the game :-)