Yup, you've heard right, final­ly you can have some mov­ing parts in your town!
All you need is to build a 'Used Car Deal­er' (see images below) in your town so the town folks can start buy­ing cars to dri­ve their kids to school or gen­er­al­ly move around the town.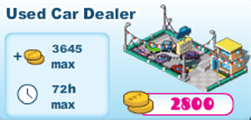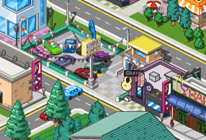 You will start see­ing the 'Blue Fam­i­ly Car' in your town almost as soon as you've built your first 'Used Car Deal­er', and if that's not exot­ic enough for you, you can add oth­er cars to the road by buy­ing the type of car you want to see from the Build menu, under Dec­o­ra­tions and then Vehi­cles.
Here are the chances you have right now:

And here's some snap­shots of how they look in the game :-)