Just a quick note to say that I have updat­ed the JSON seri­al­iz­ers bench­mark to use the lat­est Nuget ver­sions of ServiceStack.Text, Json.Net and Json­FX.
I have also includ­ed the JSON and BSON seri­al­iz­ers from the Mon­goDB C# Dri­ver in the test, and since BSON is a bina­ry for­mat I have includ­ed pro­to­buf-net as a ref­er­ence since it's the fastest bina­ry seri­al­iz­er I know of on the .Net plat­form: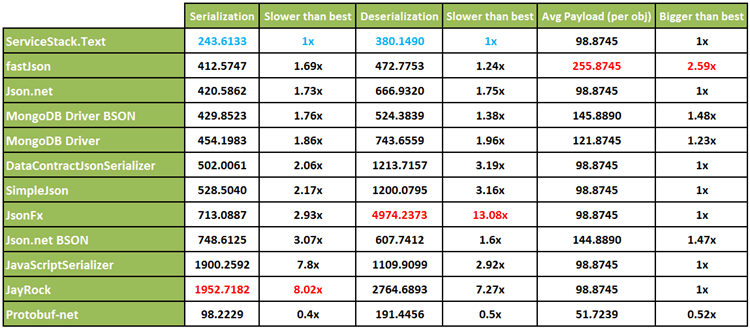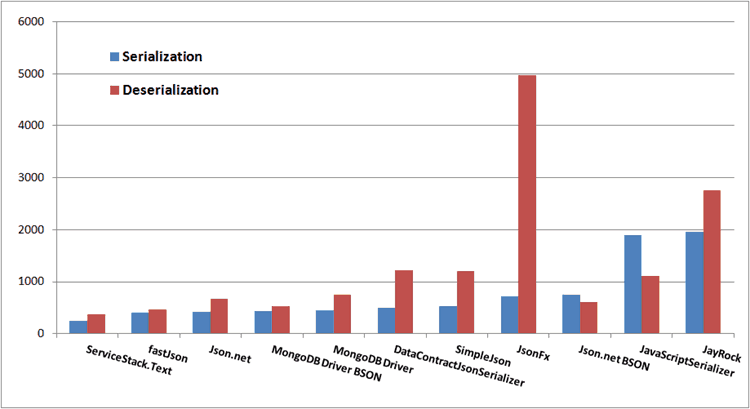 Com­pared to the last set of results, you can see that the lat­est ver­sion of Json­FX seems have gone much much slow­er on dese­ri­al­iza­tion, whilst ServiceStack.Text is still the fastest JSON seri­al­iz­er around. The Mon­goDB C# Dri­ver's JSON and BSON both held up pret­ty well in the test too.