After an 11-hour marathon ses­sion at the Lon­don Game­Craft event yes­ter­day, I am very proud to say that my team's entry – Agents of P.R.I.S.M was award­ed with the MOST INTERESTING INTERPRETATION OF THE THEME award for the theme of the day – Impact of P.R.I.S.M.
It was a great day out for the guys and gals from GameSys which also saw our oth­er team's entry – After Him – win­ning the BEST TEAM EFFORT award too for best arts.
I'd like to take this oppor­tu­ni­ty to say thanks to every­one for orga­niz­ing such a won­der­ful event, we had a great time and I saw many inter­est­ing games devel­oped by a wide vari­ety of dif­fer­ent tech­nolo­gies and frame­works. Per­son­al­ly I used this oppor­tu­ni­ty to exper­i­ment with Dart and StageXL and I'm pleased with what I was able build with them in less than 11 hours.
You can play the game here, and if you're inter­est­ed in check­ing out the source code (admit­ted­ly of poor orga­ni­za­tion due to time con­straint!) feel free to check out the github repos­i­to­ry.
Agents of P.R.I.S.M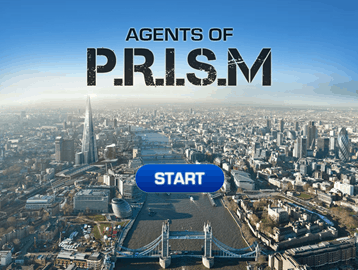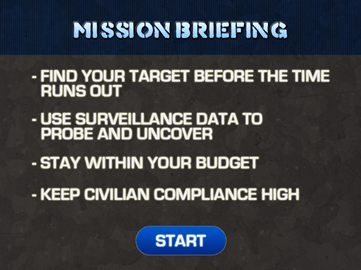 To direct­ly answer the ques­tion of 'what's the impact of PRISM', it's the cre­ation of a sur­veil­lance capa­bil­i­ty that whilst can serve to help pre­vent crime and ter­ror­ist attacks, is also sub­ject to mis­use and abuse.
If under­used and unable to stop the sort of dis­as­ter it is intend­ed to pre­vent, it'll no doubt come under much pub­lic crit­i­cism. On the oth­er hand, if it's mis­used or overused and cause too much intru­sion to every­day lives of inno­cent peo­ple then it'll also cause pub­lic unrest. It is there­fore a fine bal­ance between not doing enough and doing too much, and it is this need for bal­ance that we want­ed to focus on with Agents of P.R.I.S.M.
Mis­sion Brief
As an agent with access to P.R.I.S.M, your task is to iden­ti­fy a crim­i­nal out of a set of poten­tial tar­gets, and you have a set of sur­veil­lance options that can be used against each of these tar­gets, in the order of each option's cost and lev­el of effec­tive­ness and intru­sive­ness:
1. CCTV sur­veil­lance (least expen­sive, effec­tive and intru­sive)
2. Cred­it card sur­veil­lance
3. Email sur­veil­lance
4. Phone sur­veil­lance
5. Send agents on the field to con­duct in-per­son sur­veil­lance (most expen­sive, effec­tive and intru­sive, this is tru­ly a high risk, high reward approach)
You need to bal­ance against:
Time – if you don't iden­ti­fy the crim­i­nal before time runs out then he gets away and you failed your task, so move fast!
Intru­sion lev­el – if you're too aggres­sive with your use of sur­veil­lance options then it'll make the cit­i­zens unhap­py, when they become angry with how much you're intrud­ing on their lives it leads to civ­il unrest and you lose.
Bud­get – gov­ern­ment agen­cies have to oper­ate with­in its bud­get, so do you, spend care­less­ly on expen­sive sur­veil­lance options will drain your bud­get and when you run out of bud­get you can no longer catch the crim­i­nal and you lose.
As you progress through the lev­els, the amount of bud­get and time you have and num­ber of poten­tial sus­pects will change and make the game more and more chal­leng­ing.
Game Play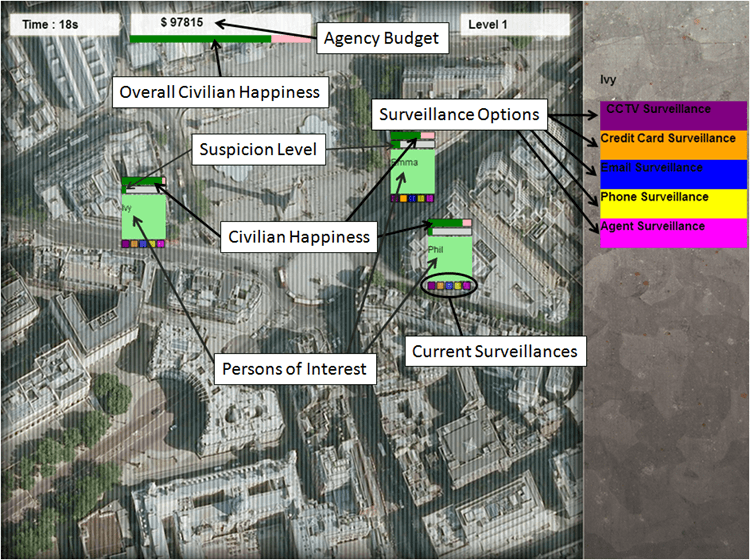 Click­ing on each tar­get allows you to start or stop the dif­fer­ent types of sur­veil­lance on him/her.
As you con­tin­ue to apply sur­veil­lance on each of your tar­gets their lev­el of hap­pi­ness will decrease (even the crim­i­nal has the right to be unhap­py about being watched you know!), as does the over­all civil­ian hap­pi­ness.
As sur­veil­lance reveals more infor­ma­tion about each of your tar­gets your lev­el of sus­pi­cion against them will also grow. How­ev­er, for the inno­cent civil­ians you'll soon real­ize that they're clean. For these civil­ians, con­tin­ued sur­veil­lance on them will no longer raise your sus­pi­cion lev­el but would con­tin­ue to cause them upset so it's best for you to stop any sur­veil­lance on tar­gets as soon as the sus­pi­cion lev­el stops grow­ing.
The more intru­sive form of sur­veil­lance option you use the faster the target's hap­pi­ness decreas­es, and the faster your sus­pi­cion lev­el will grow since the sur­veil­lance will reveal more infor­ma­tion about your tar­get, it also decreas­es your bud­get faster too as you fork out to likes of Google, Microsoft and tele­phone com­pa­nies in order to acquire com­mu­ni­ca­tion records..
I hope after read­ing you find the idea of the game inter­est­ing and would like to give it a try. I appre­ci­ate that the game doesn't feel as fun as it could be in its cur­rent form, it needs much more work bal­anc­ing the var­i­ous con­straints the play­er has to work with, for exam­ple, more time and less bud­get can encour­age a more con­sid­ered and care­ful approach to play­ing.
The UI can also be improved to offer the play­er more use­ful guid­ance and a tuto­r­i­al wouldn't go amiss too.
That said, please bare in mind that the entire game was writ­ten by one per­son in less than 11 hours using an unfa­mil­iar lan­guage and frame­work. If time per­mits and there are inter­est out there, I'm more than hap­py to put in a few more hours and give the game a much need­ed final pol­ish.
Links