I stumbled across this little gem the other day – websocketd – which turns anything that takes standard-in and standard-out into a websocket server!
To build a dead simple echo server, follow these steps:
follow the download instructions here (don't forget to add it to your PATH)
create a new console application in Visual Studio (let's call the console app EchoServer), something like this will suffice:
run this in command line:
and voila!
Since we enabled the dev console with the devconsole flag we can now go to http://localhost:8080 in the browser and test out our echo websocket server interactively: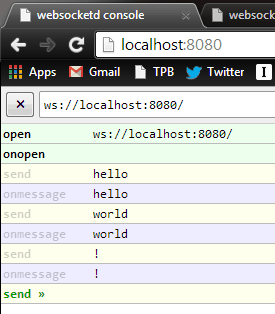 pretty sweet, right?
One thing to keep in mind though before you consider websocketd for any serious development work, is its implementation details. Based on this paragraph from its project page:
Upon startup, websocketd will start a WebSocket server on a specified port, and listen for connections.

Upon a connection, it will fork the appropriate process, and disconnect the process when the WebSocket connection closes (and vice-versa).

Any message sent from the WebSocket client will be piped to the process's STDIN stream, followed by a \n newline.

Any text printed by the process to STDOUT shall be sent as a WebSocket message whenever a \n newline is encountered.
in our case this means every time a new connection is establish websocketd will start a new instance of our console app which in practice is unlikely to be what we actually want in a websocket application such as a multiplayer game, and in any production system forking will become really expensive really quickly!
Keep in mind though that it's still a work-in-progress so the implementation details might change in the future.
Links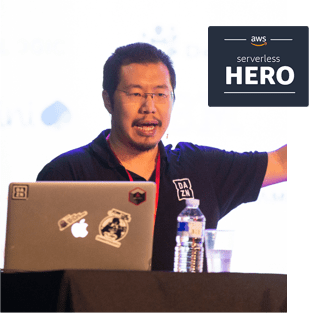 Yan Cui
I'm an AWS Serverless Hero and the author of Production-Ready Serverless. I have run production workload at scale in AWS for nearly 10 years and I have been an architect or principal engineer with a variety of industries ranging from banking, e-commerce, sports streaming to mobile gaming. I currently work as an independent consultant focused on AWS and serverless.
You can contact me via Email, Twitter and LinkedIn.
---
Further reading
Here is a complete list of all my posts on serverless and AWS Lambda. In the meantime, here are a few of my most popular blog posts.