So NDC Oslo 2014's fin­ished, it was the first time I've attend­ed the con­fer­ence and I must say it has been a fan­tas­tic expe­ri­ence for me. No only was I giv­en the priv­i­lege to see so many smart peo­ple talk­ing about inter­est­ing top­ics hap­pen­ing in our field, I was also able to meet quite a few promi­nent mem­bers of the F# and Erlang com­mu­ni­ty.
All the videos are avail­able on the NDC Oslo chan­nel on Vimeo, which you can access here.
Here's my take­aways from the keynote by Luke Wrob­lews­ki, It's a write/read web, which you can find links to the slides and record­ing at the bot­tom of the page.
It's a Write/Read web
What is the write/read web and what do com­pa­nies like Face­book, Google, Yahoo, Wikipedia, Ebay, Twit­ter, LinkedIn and YouTube have in com­mon besides being places where peo­ple like to spend time on the inter­net? Well, the expe­ri­ences they offer only work if peo­ple con­tribute con­tents to them, hence they all offer what we shall call Write/Read Expe­ri­ences. In fact, this match­es the orig­i­nal vision that Sir Tim Bern­ers-Lee had for the inter­net:
"The orig­i­nal thing I want­ed to do was make [the Web] a place where we could all meet and read & write"

– Tim Bern­ers-Lee
It's a mobile web
In the US, 78% of month­ly US Face­book users are on mobile, in the UK it's 85%. 30% of Face­book India users are mobile only.
75% of all Twit­ter users are on mobile.
40% of YouTube views are hap­pen­ing on mobile.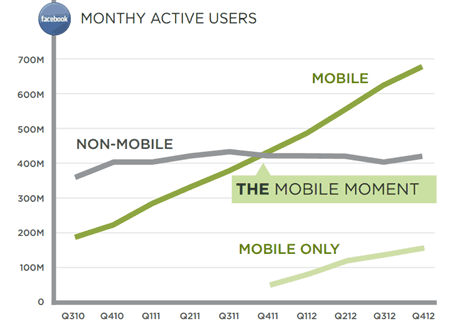 Whilst glob­al sales of PC has dropped to 281M, smart­phone and tablet sales has soared to over 2B! This rep­re­sents an oppor­tu­ni­ty that quite sim­ply, dwarfs the one we've had in the last 2 decades with the PC. Lat­est num­bers accord­ing to Gart­ner:

To illus­trate the oppor­tu­ni­ty that lies before us, Ebay did $13B worth of mobile com­merce in 2012, which is up from $4B the pre­vi­ous year.
Mobile is no longer just about games, in fact, games (50% –> 43%) and social net­work­ing (30% –> 26%) are down year over year and the big growth area is in the util­i­ties cat­e­go­ry – find & buy, finances, health, plan, trav­el, etc.
All these makes the write aspect of the web a big deal because it dri­ves where peo­ple spend time on the inter­net and con­tin­ues to dri­ve val­ue as it allows peo­ple to inter­act. So the big ques­tion for us is, how do we design for mobile cre­ation?
Design for One Handed Use
Based on 1333 obser­va­tions of peo­ple using their devices on the street, their pos­tures fall into three cat­e­gories: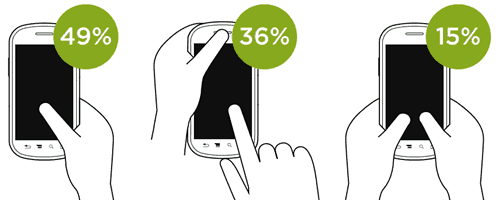 and when you look at the two-hand­ed use cas­es, it breaks down into the use of the thumb or the index fin­ger: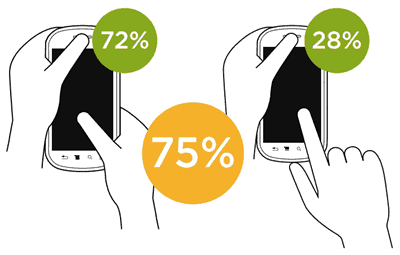 which just illus­trates the impor­tance of design for use with one thumb.
Cross-Device usage
86% of US smart­phones used while watch­ing TV.
81% use smart­phones and TV at the same time.
20% of time on mobile was in front of the TV.
All and all 68% of con­sumer smart­phone use hap­pens at home. And when peo­ple use their mobile devices in front of the TV, they still use the same one-hand­ed pos­ture!
Don't let the key­board come up (unless there's no oth­er way)
Typ­ing on mobile devices is painful, so we should try as hard as we can to keep the key­board away. And here's some ideas how you might do that:
choose smart default inputs (e.g. use your cur­rent loca­tion, etc.)
use algo­rithms to give sug­ges­tions (e.g. pop­u­lar flight des­ti­na­tions from a giv­en air­port)
use your loca­tions (e.g. when the default and sug­ges­tions fail, use your loca­tions to find near­by air­ports)
use a map UI
use a touch friend­ly date pick­er (like the Google one where you touch start and then end date on one scrol­lable page)
use slid­ers
Don't just put the same mouse inter­ac­tions onto mobile, tar­get and design for one-hand­ed use!
Focused Flows
Think about what your users are try­ing to do in your appli­ca­tion and real­ly make it easy to accom­plish those tasks.
"Cre­ativ­i­ty is peo­ple who care enough to keep think­ing about some­thing until they find the sim­plest way to do it."

- Tim Cook
Mak­ing it eas­i­er for users to accom­plish their tasks also has fun­da­men­tal busi­ness impacts too. For instance, Boin­go found a 34% increase in con­ver­sion when they dropped the num­ber of input fields by 11!
Try and get down to the core essence of what the users are try­ing to achieve.
"Book­ing a hotel hap­pens in 3 taps and a swipe. This is a com­pet­i­tive advan­tage."

- Sam Shank, CEO of Hotel Tonight
Some­times it can take big changes inside an orga­ni­za­tion for you to real­ly go small on the design of your input forms because com­pa­nies strug­gle to let go of the way they had been doing things in the years. As depart­ments built up in the PC-dom­i­nat­ed years try­ing to exert their involve­ments in the mobile era, you end up with stuff that isn't focused enough because it's built off pre­vi­ous mod­els.
Cross-Device Usages
52% of US lap­top own­ers have smart­phone.
31% of US smart­phone own­ers have a tablet.
13% of Amer­i­cans own lap­top, tablet and smart­phone and 90% use mul­ti­ple screens sequen­tial­ly and most do so in the same day.
Many peo­ple also use dif­fer­ent devices at the same time.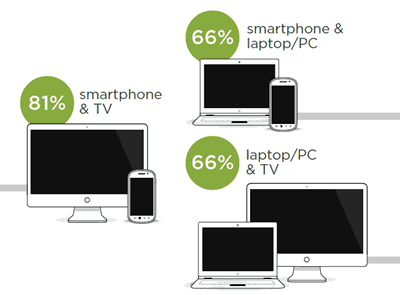 which means there's a great oppor­tu­ni­ty for cre­at­ing expe­ri­ences that take mul­ti­ple-devices into account.
Here's some verbs that map to things that peo­ple are try­ing to do:
Access
Flow
Con­trol
Push
Access is the abil­i­ty to view and inter­act with con­tents on mul­ti­ple devices, e.g. Chrome offers the abil­i­ty to con­tin­ue brows­ing on a new device from where you left over on anoth­er, and the back/forward but­tons con­tin­ue to work so that you can tran­si­tion from one device to anoth­er seam­less­ly. Sim­i­lar­ly, Amazon's whis­per sync offers the same seam­less tran­si­tions with your Kin­dle-enabled devices.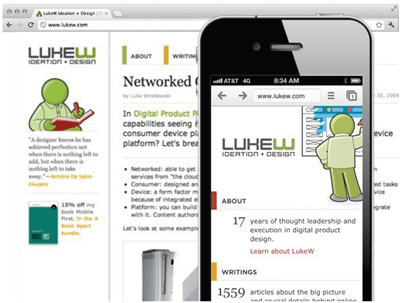 But we want more than just seam­less­ly move con­tent, we also want to seam­less­ly move our process­es, and that's Flow. E.g. when you search address­es on Google maps on the PC and lat­er on hav­ing access to those search­es as drop­downs on the phone. This sim­ple exam­ple also illus­trates how you can use each device for what it's good for, the PC is good for see­ing the big map and enter­ing address­es, where­as the phone is portable, has GPS and audio direc­tions.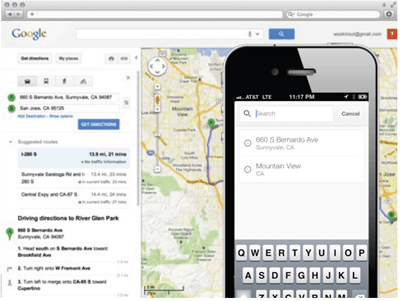 Con­trol allows one device to act as inter­face for anoth­er. E.g. you can turn authen­ti­ca­tion into a mul­ti-device expe­ri­ence, OneID lets you set one device to unlock only if you send an unlock PIN on anoth­er, for instance to log on on the lap­top you'll get a noti­fi­ca­tion on your phone to enter your PIN and unlock the lap­top.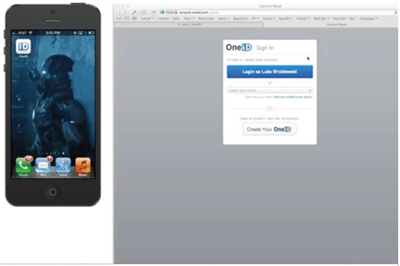 Push is the abil­i­ty to send stuff between devices. You can use screen mir­ror­ing to project con­tents from your mobile devices to your TV, but expe­ri­ences of using Chrome­cast doesn't take advan­tage of what each device does well. Instead you want to design expe­ri­ences that are tai­lored for each device and how they're used.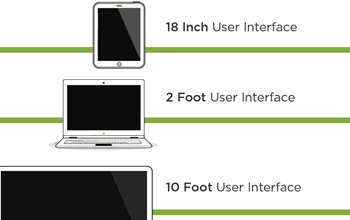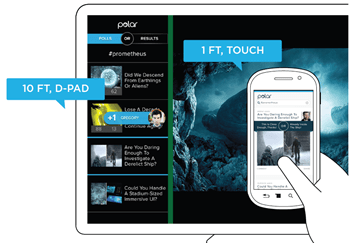 As new types of devices such as iWatch and Google Glass start to hit the mar­ket, we will have to push even hard­er to make the user inter­face sim­pler to work on those devices.
Links