Hi, wel­come to anoth­er week­ly update!
We have released a num­ber of new videos on my video course Pro­duc­tion-Ready Server­less:
We will pub­lish the next videos on cold starts soon. Remem­ber, whilst the course is still in the MEAP, you can get 40% off the face price using the code ytcui.
I have also turned this course into a class­room set­ting, so if you're inter­est­ed in hav­ing me run this as a work­shop in your com­pa­ny, then drop me a line via the Con­tact page.
WeAreDevelopers videos
All the videos from #WeAre­De­vel­op­ers 2018 is avail­able. Here's the slides and video for my talk on build­ing a real­time mul­ti­play­er mobile game with Akka.
FullStack Videos
All the videos from last week's Full­Stack con­fer­ence is now avail­able online. My talk on server­less in pro­duc­tion, an expe­ri­ence report is also avail­able here.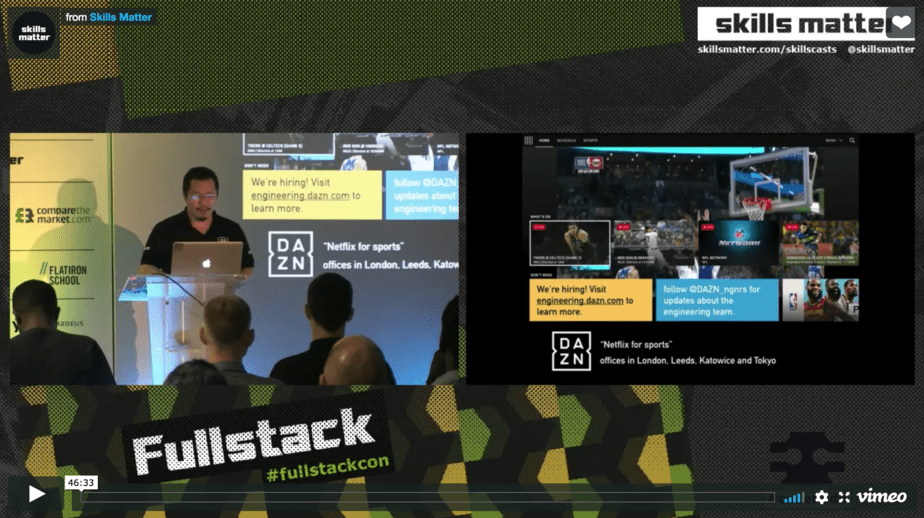 PureSec webinar
Record­ing of my webi­nar with Ory Segal, CTO of PureSec, is now avail­able on YouTube. We dis­cussed a num­ber of top­ics around server­less and secu­ri­ty, as showed off a quick demo of how PureSec can help you pro­tect your server­less appli­ca­tion.
sphere.it videos
All the videos from sphere.it is now avail­able online. My talk on how to apply prin­ci­ples of chaos engi­neer­ing to server­less is also avail­able for your view­ing plea­sure :-)
New Posts
My wish list for AWS Lamb­da in 2018. Hot on the heels of the SQS announce­ment, I came up with a list of fea­tures I would love to see from AWS Lamb­da. Amongst these include:
abil­i­ty to pay for a pool of warm con­tain­ers

&

ENIs
abil­i­ty to pipe logs to a Kine­sis stream with­out first going through Cloud­Watch Logs
pred­ica­tive scal­ing
final­iz­er han­dler to clean up resources when a con­tain­er garbage col­lect­ed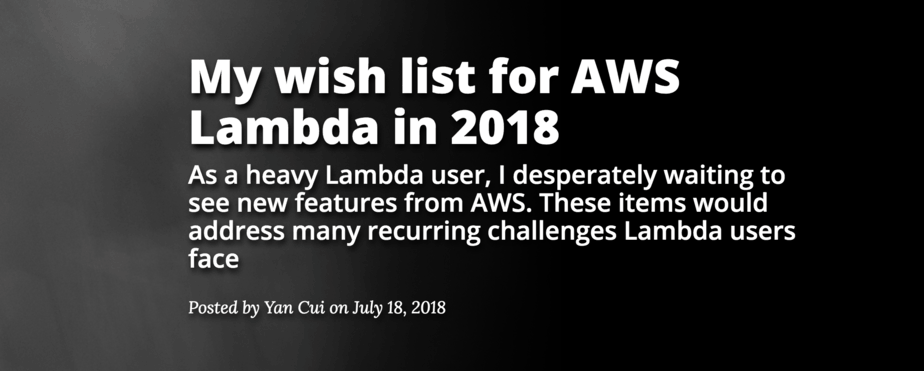 AWS Announcements
IAM intro­duces per­mis­sions bound­aries. This plugs a big gap in the cur­rent IAM per­mis­sion mod­el, where any­one with the per­mis­sion to cre­ate new IAM roles can cre­ate more per­mis­sive roles than their own. Check out this thread by Ben Kehoe, which accu­rate­ly sum­maris­es the prob­lem as well as lim­i­ta­tions with the new fea­ture.
A game-chang­ing update from @AWSIdentity today. IAM Per­mis­sions bound­aries let you con­trol what per­mis­sions a user can del­e­gate to an IAM role they cre­ate. Details and caveats fol­low… https://t.co/f6qHQJRsa9

— Ben Kehoe (@ben11kehoe) July 13, 2018
S3 announces increased request rate per­for­mance. This is huge, and removes the per­for­mance bot­tle­neck with S3 that required us to use ran­dom­ized keys in the past.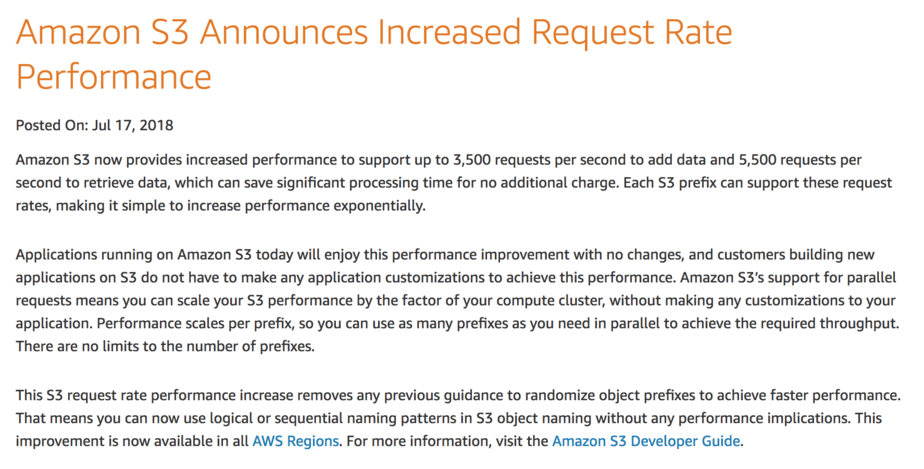 Good reads
Unit test­ing for Node.js Server­less projects with Jest.