If you have an interface like this:

IDal<T>

with a concrete class like this, which you want to wire up with Castle:

Dal : IDal<IEntity>

Then here's the syntax to specify the component in your Castle Windsor configuration file

<component id="myDal"
           service="Namespace.IDal`1&#91;&#91;Namespace.IEntity, Assembly&#93;&#93;, Assembly"
           type="Namespace.Dal, Assembly"/>

Similarly, imagine if you have more than one generic type parameter:

IRetrievable<T, idT>
FooRetriever : IRetrievable<Foo, string>


<component id="FooRetriever"
           service="Namespace.IRetrievable`2&#91;&#91;Namespace.Foo, Assembly&#93;,&#91;System.String&#93;&#93;, Assembly"
           type="Namespace.FooRetriever, Assembly"/>

Remember, you need to use the back tick (`), NOT apostrophes (')!
References:
StackOverflow question on the syntax to declare generic types in castle config
StackOverflow question on declaring more than one parameter type in castle config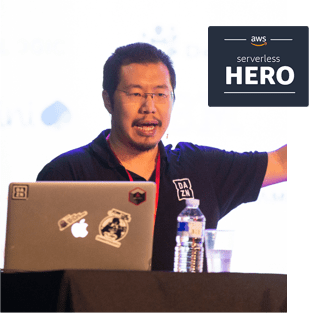 Yan Cui
I'm an AWS Serverless Hero and the author of Production-Ready Serverless. I have run production workload at scale in AWS for nearly 10 years and I have been an architect or principal engineer with a variety of industries ranging from banking, e-commerce, sports streaming to mobile gaming. I currently work as an independent consultant focused on AWS and serverless.
You can contact me via Email, Twitter and LinkedIn.
---
Further reading
Here is a complete list of all my posts on serverless and AWS Lambda. In the meantime, here are a few of my most popular blog posts.