Problem
By starting at the top of the triangle below and moving to adjacent numbers on the row below, the maximum total from top to bottom is 23.

That is, 3 + 7 + 4 + 9 = 23.

Find the maximum total from top to bottom in triangle.txt (right click and 'Save Link/Target As…'), a 15K text file containing a triangle with one-hundred rows.

NOTE: This is a much more difficult version of Problem 18. It is not possible to try every route to solve this problem, as there are 299 altogether! If you could check one trillion (1012) routes every second it would take over twenty billion years to check them all. There is an efficient algorithm to solve it. ;o)
Solution
open System.IO
// covers the data in the text to a triangle of ints, i.e. int list list
let triangle =
File.ReadAllLines(@"C:\TEMP\triangle.txt")
|> Array.map (fun s -> s.Split(' ') |> Array.map int32 |> Array.toList)
|> Array.toList
// function to return all the combinations of n elements from the supplied list
let rec comb n list =
match n, list with
| 0, _ -> [[]]
| _, [] -> []
| k, (x::xs) -> List.map ((@) [x]) (comb (k-1) xs) @ (comb k xs)
// calculates the next row in the T triangle given the new row in R and the last row in T
let getNewTotal (row:int list) (total:int list) =
let head = total.Head
let tail = List.nth total (total.Length-1)
let body = total |> Seq.windowed 2 |> Seq.map (fun l -> Seq.max l) |> Seq.toList
List.map2 (+) row (List.concat [[head]; body; [tail]])
// recursively traverse down the R triangle and return the last row in T
let rec traverse (raw:int list list) (total:int list) n =
let row = raw.[n]
let newTotal = getNewTotal row total
if n < (raw.Length-1) then traverse raw newTotal (n+1) else newTotal let answer = List.max (traverse triangle [59] 1) [/code] See problem 18 solution for the full explanation of this solution.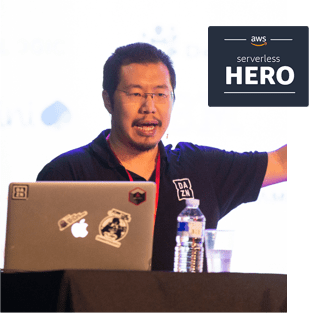 Yan Cui
I'm an AWS Serverless Hero and the author of Production-Ready Serverless. I have run production workload at scale in AWS for nearly 10 years and I have been an architect or principal engineer with a variety of industries ranging from banking, e-commerce, sports streaming to mobile gaming. I currently work as an independent consultant focused on AWS and serverless.
You can contact me via Email, Twitter and LinkedIn.
---
Further reading
Here is a complete list of all my posts on serverless and AWS Lambda. In the meantime, here are a few of my most popular blog posts.