Problem
Comparing two numbers written in index form like 211 and 37 is not difficult, as any calculator would confirm that 211 = 2048 < 37 = 2187.

However, confirming that 632382518061 > 519432525806 would be much more difficult, as both numbers contain over three million digits.

Using base_exp.txt (right click and 'Save Link/Target As…'), a 22K text file containing one thousand lines with a base/exponent pair on each line, determine which line number has the greatest numerical value.

NOTE: The first two lines in the file represent the numbers in the example given above.
Solution
This question looks tricky at first as working out the actual value of each of the base/exponent pair in the file can take a looong time.. but as many others have suggested, you can compare the logarithm of the actual value instead, which can be expressed in the following form:

which can be computed very quickly and the rest is easy.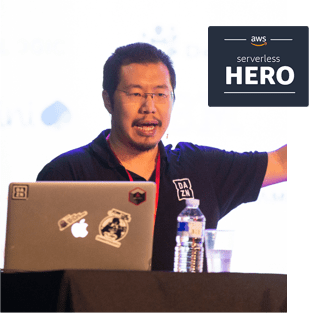 Yan Cui
I'm an AWS Serverless Hero and the author of Production-Ready Serverless. I have run production workload at scale in AWS for nearly 10 years and I have been an architect or principal engineer with a variety of industries ranging from banking, e-commerce, sports streaming to mobile gaming. I currently work as an independent consultant focused on AWS and serverless.
You can contact me via Email, Twitter and LinkedIn.
---
Further reading
Here is a complete list of all my posts on serverless and AWS Lambda. In the meantime, here are a few of my most popular blog posts.