Win­ter is upon us, but so is an excit­ing part of the year when lots of good tech con­fer­ences are hap­pen­ing all over the place!
CodeMesh was awe­some
We had a great time at CodeMesh again this year, and enjoyed some amaz­ing ses­sions from some of the best peo­ple in the indus­try. Don't wor­ry if you couldn't make it this time around, all the ses­sions were record­ed, so keep an eye out for them on their web­site for when the videos are post­ed.
Next up, Build­Stuff in Vil­nius
Con­sid­er­ing the jaw-drop­ping qual­i­ty of the line up – Udi Dahan, Eric Evans, Bart de Smet, Mark Ren­dle, Matthew Pod­wysoc­ki, Pieter Hin­t­jens, Math­ias Bran­dewinder, Sasha Gold­shtein, Tomas Pet­ricek, Phil Trelford and Greg Young him­self, and so many more – Build­Stuff has got­ta be one of the best val­ue-for-mon­ey con­fer­ence around.
It's not too late to get last minute tick­ets, and you can get 10% off the face price with the pro­mo code CUI.
You can find the full sched­ule for the 3 days here, I'll be giv­ing an extend­ed ver­sion of my game econ­o­my mod­el­ling with Neo4j talk on Fri­day, right before I head off to…
f(by) 14 in Belaurs
The recent­ly announced f(by) con­fer­ence is the first func­tion­al con­fer­ence in Belarus, with two tracks cov­er­ing Scala, F#, Clo­jure, Erlang and Haskell.
Phil Trelford, Eveli­na Gabaso­va and me will be giv­ing talks on F#. I will be giv­ing a talk on tam­ing API com­plex­i­ty using F#-powered DSLs. In this talk, I'll be draw­ing on my expe­ri­ence work­ing with AWS for the past 5 years and how we tack­led some of the com­plex­i­ties around their many APIs using both inter­nal and exter­nal DSLs and how F# makes
Tick­et is avail­able via their web­site, and I have a 10% dis­count code avail­able on request.
NDC Lon­don
Back to Lon­don, NDC Lon­don will be hap­pen­ing from Dec 3rd-5th. Although this is the most expen­sive con­fer­ence on this list, it does have a rather impres­sive list of speak­ers – Don Syme, Uncle Bob, Bren­dan Eich, Jon Skeet, Dan North and Rob Con­ery to name a few, par­tic­u­lar­ly if you're in the .Net space.
Bryan Hunter has put togeth­er a great selec­tion of talks on func­tion­al pro­gram­ming (Bryan orga­nized the func­tion­al track for NDC Oslo this year, which had some great talks), and I'm hon­oured to be part of it.
Full agen­da is avail­able here, I'll be talk­ing about my adven­ture with Elm on Fri­day morn­ing. I aim to give the audi­ence a gen­tle intro­duc­tion to both Func­tion Reac­tive Pro­gram­ming and Elm. If time allows, maybe we'd even tweak the demo to be playable with the Myo arm­band

Cod­Mash in Ohio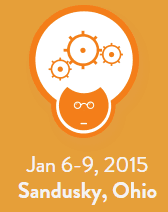 Final­ly, I'll be sign­ing off a busy cou­ple of months with Code­Mash, which is tak­ing place on Jan 6th-9th, in Ohio.
Again, F# is well rep­re­sent­ed with Math­ias Bran­dewinder, Rachel Reece, Ryan Riley, Paul Bla­suc­ci and myself all giv­ing talks on F#. Judg­ing by the list of accept­ed ses­sions there are some amaz­ing talks on a wide range of tech­nolo­gies, plat­forms and lan­guages.
I'll be giv­ing talks on:
mod­el­ling game econ­o­my with Neo4j,
F# in social gam­ing, and
my adven­ture with Elm
All in all, there will be some 243 talks from 191 speak­ers for you to choose from! Although I'm not exact­ly look­ing for­ward to the snow­storm every­one tells me to be pre­pared for, I am def­i­nite­ly look­ing for­ward to Code­Mash (and my first vis­it to the US).
Hope to see you at some of these con­fer­ences