Hi, wel­come to anoth­er week­ly update!
We have released 2 new videos on my video course Pro­duc­tion-Ready Server­less, this time around cold starts, which is eas­i­ly the most fre­quent­ly asked ques­tion I get!
Remem­ber, whilst the course is still in the MEAP, you can get 40% off the face price using the code ytcui.
I have also turned this course into a class­room set­ting, so if you're inter­est­ed in hav­ing me run this as a work­shop in your com­pa­ny, then drop me a line via the Con­tact page.
DAZN is hiring in both London and Amsterdam
Fresh off our ground­break­ing new deals for the Ital­ian league and US box­ing, we are also expand­ing our engi­neer­ing team to new loca­tions. We will be open­ing a new office in Ams­ter­dam, and we are look­ing for tal­ent­ed engi­neers at all lev­els, and from dif­fer­ent dis­ci­plines to join our team!
Whether you want to spe­cialise in back­end or fron­tend, or lean­ing towards full­stack devel­op­ment, or devops/SRE, we want to hear from you! We will pro­vide visa spon­sor­ship, and offer you the chance to work on some inter­est­ing and chal­leng­ing projects, and pro­vide you with the help and oppor­tu­ni­ty to learn and improve your­self.
ServerlessDays Milan
Also, I want to share some good news with you :-)
I'm hon­oured to be invit­ed as a keynote speak­er at Server­less­Days Milan, which is hap­pen­ing on the 19th Octo­ber. The call for paper is still open so don't miss your chance to speak at anoth­er excit­ing server­less event in Europe! The oth­er keynote speak­er is the one and only Gojko Adz­ic, cre­ator of claudia.js and author of one of my favourite books on test­ing — Spec­i­fi­ca­tion by Exam­ple.
Oh, and DAZN is going to be one of the spon­sors for the event, and we'll be at the job fair the day after the main event. If you wan­na chat to me and oth­er DAZN engi­neers about what it's like to work there, or to find out oppor­tu­ni­ties we have, then that's the per­fect oppor­tu­ni­ty for you to do so.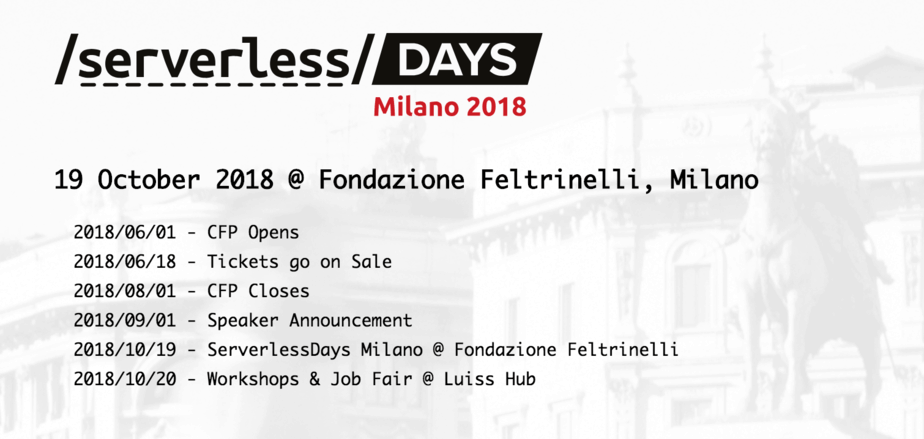 New Survey by CloudZero
CloudZe­ro (www.cloudzero.com) today announces the launch of a sig­nif­i­cant mar­ket research effort focused exclu­sive­ly on the Cloud and Server­less EcoSys­tem. Beyond the many infor­ma­tive sur­veys in mar­ket that have focused on the size of the mar­ket, key appli­ca­tions and the rate of adop­tion of cloud and server­less sys­tems, this online sur­vey is focused on bet­ter under­stand­ing the yet unsolved prob­lems and chal­lenges that arise when orga­ni­za­tions com­mit to devel­op and run in server­less envi­ron­ments.
It chal­lenges those tak­ing the sur­vey to think about a new par­a­digm to under­stand the inter­re­la­tion­ships between Activ­i­ty, Cost, Per­for­mance and Rela­tion­ships that occur in cloud and server­less envi­ron­ments. The sur­vey will also probe on the tech­nolo­gies cur­rent­ly used to under­stand, man­age and resolve these prob­lems and chal­lenges, and to inter­pret the rel­a­tive impor­tance of each.
Please go and com­plete the sur­vey, it'll only take 5–10 min­utes. Your effort will real­ly help us under­stand the pain points peo­ple have, and the biggest unsolved prob­lems in the tool­ing space.
New Posts
Step Func­tions: how to imple­ment sem­a­phores for state machines. I have used AWS Step Func­tions a lot at DAZN and some­times we need to con­trol the num­ber of con­cur­rent exe­cu­tions that can access a shared resource. For that we need­ed to imple­ment sem­a­phore seman­tics for our state machines.
In this post I dis­cussed two approach­es to solv­ing this prob­lem and com­pared them on scal­a­bil­i­ty, sim­plic­i­ty and cost.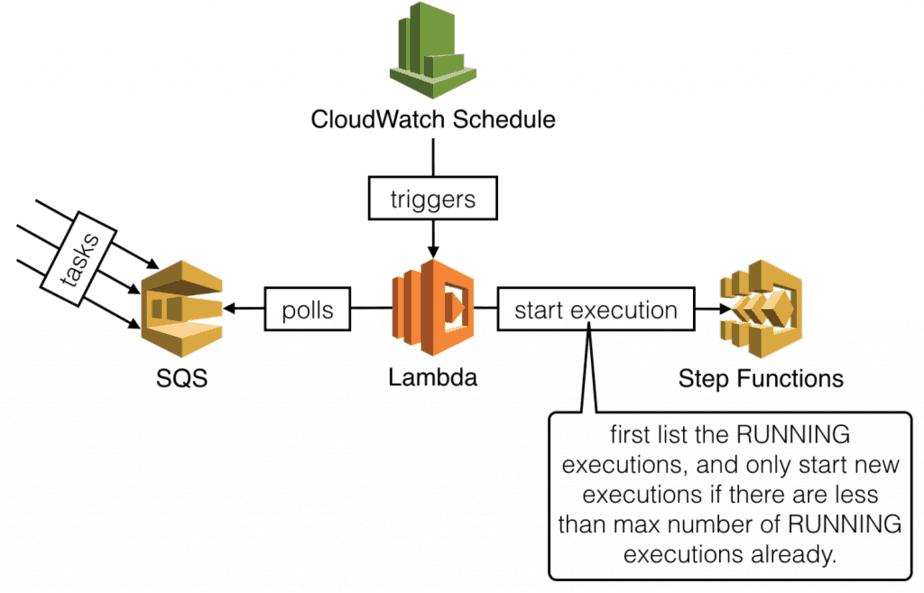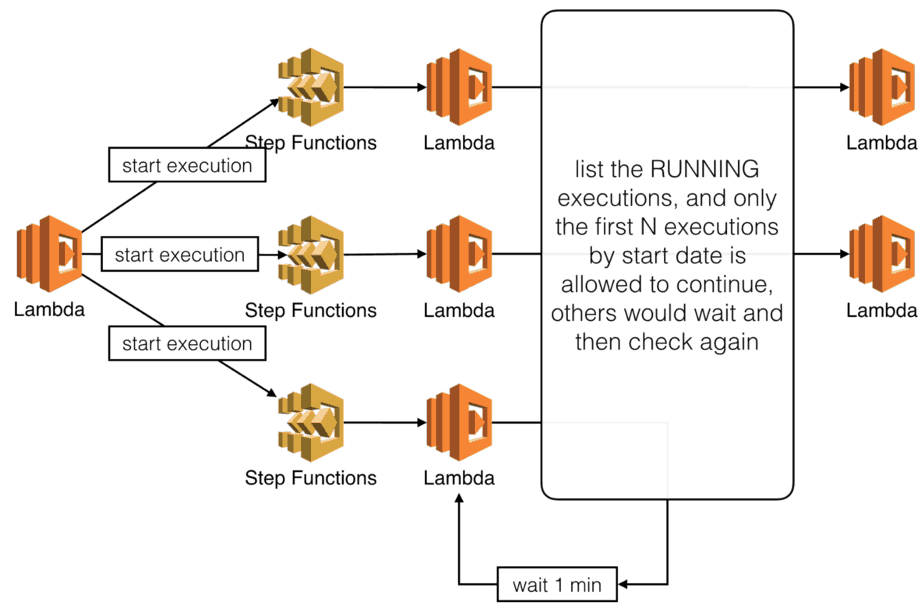 Cen­tralised log­ging for AWS Lamb­da, REVISED (2018). A fol­low-up on my orig­i­nal post on cen­tralised log­ging for AWS Lamb­da.
In this post I dis­cussed the prob­lem with using Lamb­da func­tions to ship logs from Cloud­Watch Logs in terms of con­cur­ren­cy con­trol, or lack there of. And why, when you're oper­at­ing at scale it is bet­ter to stream your logs to a Kine­sis stream first.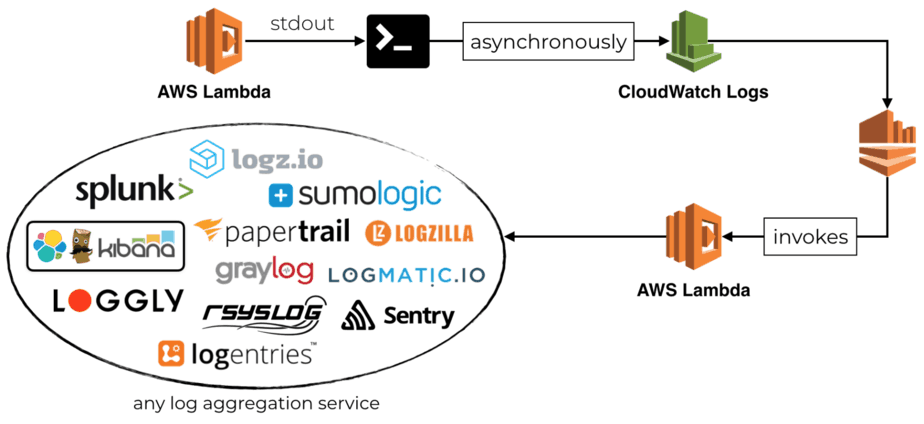 If you recall from the last week­ly update, I also wrote a post for Bina­ris on my wish list for AWS Lamb­da. And no. 1 on that list is the abil­i­ty to ship logs to Kine­sis with­out going through Cloud­Watch Logs first. If my wish is to be grant­ed then it'll dove­tail per­fect­ly with this approach (using Kine­sis) and stream­line our log­ging pipeline even fur­ther!.
How to cre­ate IP-pro­tect­ed end­points with API Gate­way and Lamb­da. Final­ly, I wrote a short post on how to use the new resource poli­cies fea­ture in API Gate­way to imple­ment end­points that are only acces­si­ble from whitelist­ed IP ranges.
AWS Announcements
SSM Para­me­ter Store is now inte­grat­ed with the new AWS Secrets Man­ag­er.
ELB now sup­ports redi­rects and fixed error respons­es for the ALB.
Far­gate is now avail­able in Sin­ga­pore, Syd­ney and Frank­furt.
Good reads
Pat­terns for Resilient Archi­tec­tures — Part 1 by Adrien Horns­by
The mil­lion dol­lar engi­neer­ing prob­lem by Seg­ment
25 Server­less peeps you need to fol­low by Jere­my Daly
Is AWS Lamb­da the Most Secure Appli­ca­tion Plat­form? Prob­a­bly. by Tsion Gonen