Problem
The sequence of triangle numbers is generated by adding the natural numbers. So the 7th triangle number would be 1 + 2 + 3 + 4 + 5 + 6 + 7 = 28. The first ten terms would be:

1, 3, 6, 10, 15, 21, 28, 36, 45, 55, …

Let us list the factors of the first seven triangle numbers:

1: 1

3: 1,3

6: 1,2,3,6

10: 1,2,5,10

15: 1,3,5,15

21: 1,3,7,21

28: 1,2,4,7,14,28

We can see that 28 is the first triangle number to have over five divisors.

What is the value of the first triangle number to have over five hundred divisors?
Solution

open System

let triangleNumber(n:int64) = [1L..n] |> Seq.sum

let findFactorsOf(n:int64) =
    let upperBound = int64(Math.Sqrt(double(n)))
    [1L..upperBound] 
    |> Seq.filter (fun x -> n % x = 0L) 
    |> Seq.collect (fun x -> [x; n/x])

let naturalNumbers = Seq.unfold (fun x -> Some(x, x+1L)) 1L

let answer =
    naturalNumbers
    |> Seq.map (fun x -> triangleNumber(x))
    |> Seq.filter (fun x -> Seq.length(findFactorsOf(x)) >= 500)
    |> Seq.head

My solution here is simple, first create the triangleNumber function that calculates the triangle number for a given natural number.
I then created a modified version of the findFactorsOf function I first used in the problem 3 solution to find ALL the factors of a number including 1 and itself.
Again I used Seq.unfold to build up a sequence of natural numbers and to find the answer I iterate through the natural numbers and for each get its triangle number; find the factors of the triangle number; and check if the number of factors is at least 500.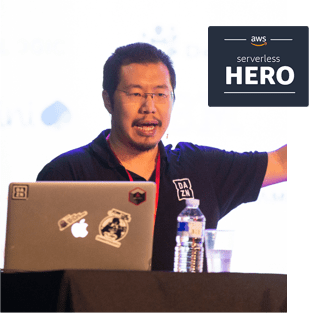 Yan Cui
I'm an AWS Serverless Hero and the author of Production-Ready Serverless. I have run production workload at scale in AWS for nearly 10 years and I have been an architect or principal engineer with a variety of industries ranging from banking, e-commerce, sports streaming to mobile gaming. I currently work as an independent consultant focused on AWS and serverless.
You can contact me via Email, Twitter and LinkedIn.
---
Further reading
Here is a complete list of all my posts on serverless and AWS Lambda. In the meantime, here are a few of my most popular blog posts.