Note: don't for­get to check out the Bench­marks page to see the lat­est round up of bina­ry and JSON seri­al­iz­ers.
Since my last round of bench­marks on bina­ry seri­al­iz­ers, there's a new play­er in town – Mes­sage­Shark, which at the time of this writ­ing does not sup­port seri­al­iza­tion of fields, but offers com­pa­ra­ble speed and pay­load to pro­to­buf-net.
Using the same test objects, here's how Mes­sage­Shark com­pares to the oth­er bina­ry seri­al­iz­ers: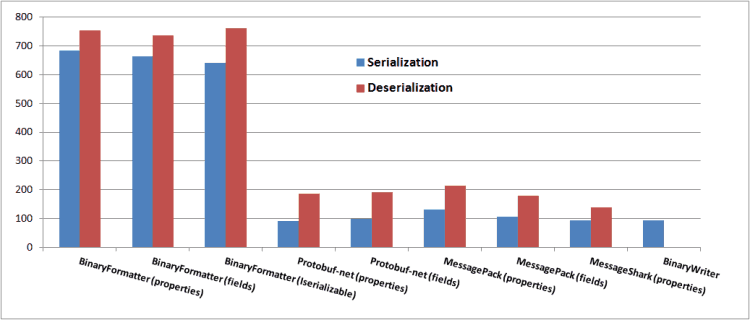 It's ear­ly days for Mes­sage­Shark but the signs are good, com­pa­ra­ble seri­al­iza­tion speed with pro­to­buf-net and a notice­ably faster dese­ri­al­iza­tion speed, def­i­nite­ly one to keep an eye out for!