DISCLAIMER : as always, you should bench­mark against your pay­load and use case, the bench­mark num­bers I have pro­duced here is unlike­ly to be rep­re­sen­ta­tive of your use cas­es and nei­ther is any­body else's bench­mark num­bers.
You can use the sim­ple test har­ness I cre­at­ed and see these exam­ple code to bench­mark against your par­tic­u­lar pay­load.
Binary
Only FsPick­ler was updat­ed for this bench­mark so there are no sig­nif­i­cant changes in per­for­mance here.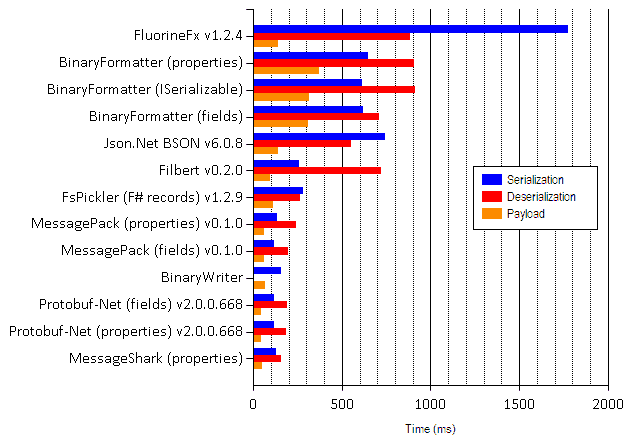 JSON
Qui­et a few of the JSON seri­al­iz­ers had been updat­ed since the last update:
fastJ­SON
FsPick­ler
Jil
Mon­goDB Dri­ver
ServiceStack.Text
System.Text.Json
I have retired Jay­Rock and Json­Fx from the test since both are way behind the com­pe­ti­tion and haven't updat­ed for a while, so I con­sid­er both to be no longer of inter­est.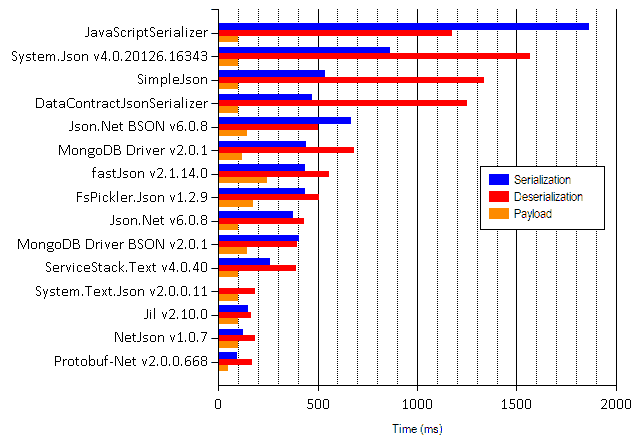 *pro­to­buf-net is in this list pure­ly as a bench­mark to show how the test­ed JSON seri­al­iz­ers com­pare to one of the fastest bina­ry seri­al­izer in .Net.