Like many oth­er games on Face­book, the econ­o­my in Super­Fun­Town revolves around two types of cur­ren­cies:
Coins – the com­mon cur­ren­cy need­ed to pur­chase most items in the game, earned by col­lect­ing rent from res­i­den­tial units and prof­it from goods sold at shops and fac­to­ries.
Cash – the rare cur­ren­cy need­ed to pur­chase spe­cial items (the real­ly cool stuff!), you earn 1 cash every time you lev­el up.

Whilst there's no real way to earn cash quick­ly besides buy­ing them with real mon­ey or tak­ing up one of the Super­Re­wards offers, you can earn coins quick­ly with some care­ful plan­ning and ded­i­ca­tion!
Build Shops and Factories!
Whilst you do get coins from res­i­den­tial units, the amount and fre­quen­cy of the col­lec­tions WILL NOT be able to sus­tain a steady growth by the time you are lev­el 6!!
Ear­ly on in the game, it's easy to fall prey to your own temp­ta­tion to just build res­i­den­tial units to help you lev­el up quick­ly. What you don't realise is that the only rea­son you're able to afford the growth in the first few lev­els is the bonus coins/cash you earn from lev­el­ling up, but your new­found wealth will dis­ap­pear quick­ly and you will soon strug­gle to afford any­thing at all if you spent all your coins on res­i­den­tial units.
It's impor­tant that you invest in Shops and Fac­to­ries ear­ly on in the game and con­tin­ue that invest­ment because as you lev­el up the cost of items goes north too. How­ev­er, as the space in your town is lim­it­ed and you still need to build res­i­den­tial units, you need to find a bal­ance that works for you. How many shops/factories you need will be influ­enced by what you are able to build and how prof­itable they are, but a good gen­er­al rule of thumb is:
use at least 40% of the avail­able spaces in your town on shops and fac­to­ries
Stock Options Explained
As you know, each shop/factory has at least 3 types of goods it's able to stock and each type of goods takes a cer­tain amount of time (see table below) for them to be sold out before you can col­lect the prof­its. Depend­ing on how often you are able to play, you should choose the right type of goods to stock in your com­mer­cial units so that ide­al­ly you'd be able to col­lect and restock as soon as they become avail­able.
| | | |
| --- | --- | --- |
| Time | Cost to Stock | Return |
| 5 Min­utes | Cheap­est | 3 times of cost |
| 3 Hours | > 5 Min­utes | 2.5 times of cost |
| 8 Hours | > 3 Hours | 2.5 times of cost |
| 24 Hours | > 8 Hours | 2.5 times of cost |
| 2 Days | > 24 Hours | Varies |
| 3 Days | Most Expen­sive | 1.2 times of cost |
In terms of returns per hour of con­tin­u­ous play, the short­er options ALWAYS per­form bet­ter but at the same time require you to invest more time into the game. This makes the 5 min­utes stock options the best choice to go for when you want to earn coins quick­ly and don't mind com­ing back to col­lect and restock every 5 min­utes or so.
Also, as you can see the 3 Days options don't offer much in terms of prof­it and giv­en that all the 2 Days stocks are avail­able for col­lec­tion for a whole day before they turn into rub­bish I usu­al­ly don't both­er with the 3 Days options.
Earning Efficiency
In the build win­dow you can see the longest stock option avail­able and the max amount you can col­lect from each shop or fac­to­ry, in gen­er­al the high­er the max col­lec­tion amount the more prof­itable the com­mer­cial unit is. Take the 'Cof­fee Shop' and 'Dive Bar' for exam­ple: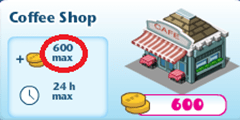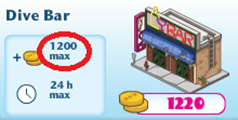 The 'Dive Bar' costs twice as much to build but also yields twice the return on all but the 5 min­utes stock options, mak­ing it a more prof­itable unit to build.
Anoth­er impor­tant aspect to con­sid­er when mak­ing a choice on what com­mer­cial unit to build is the size of the unit. Take 'The Din­er' and 'Dive Bar' for exam­ple: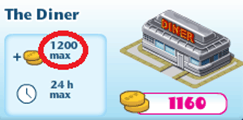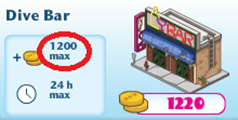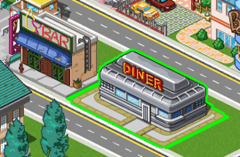 On paper, they are near­ly iden­ti­cal in terms of earn­ing pow­er and 'The Din­er' costs slight­ly less, mak­ing it the bet­ter unit. How­ev­er, it takes up 1.5 times as much space (see left) in your town as the 'Dive Bar', so it's actu­al­ly less prof­itable on a per square basis and there­fore reduces the over­all earn­ing poten­tial of your town.
The earn­ing per square is par­tic­u­lar­ly impor­tant ear­ly on in the game as spaces are like­ly to be lim­it­ed until you can afford to extend your town.
For the same rea­son, fac­to­ries are not very good units for mak­ing coins as they take up far more spaces than shops but don't offer a pro­por­tion­al­ly larg­er return.
Some Tips
In the ear­ly parts of the game, you should focus on build­ing shops and avoid fac­to­ries, here are some good shops to build:
Dive Bar, 50 Cent Can­dy, Music Store, Florist, Piz­za Palace
Once you are able to build it, you should stock on a cou­ple of Shoe Shop and Roman­tic Hotel as they are two of the best com­mer­cial units avail­able in the game at this point!
Besides the units them­selves, time is the most pre­cious com­mod­i­ty in the game so don't waste it! Use the 3 hours stocks if you can come back and col­lect in 3 hours time, you'd earn more in 8 hours than you would with the 8 hours stocks. Except the last time you stock before you go to bed (which every­one needs at least 6 hours a night!), use the 8 hours stocks so your shops con­tin­ue to make your mon­ey whilst you sleep!
Last­ly, don't for­get to hire your friends to work in your new­ly built shops to get 10% bonus on them, and encour­age your friends to donut your shops (for anoth­er 10% bonus!) by send­ing a few donuts their way!
That's it from me for now, good luck build­ing!
Other Parts in the SuperFunTown Guide: