For me, the thing that sets Super­Fun­Town apart form oth­er city build­ing games on Face­book is the abil­i­ty to cus­tomize and change your town in a way that makes it tru­ly unique! There are a num­ber of pow­er­ful tools at your dis­pos­al, for exam­ple:
Every­thing is rotat­able in the game
You know how some games don't let you rotate any­thing at all while oth­ers let you rotate only some of the items so you often have no choice but to align all your items in a cer­tain way. Well, that's cer­tain­ly not the case here! You're free to rotate every­thing in the game so how you want to arrange all your build­ings and roads are entire­ly down to YOU.
To rotate a build­ing in your town, fol­low the sim­ple steps below:
| | | |
| --- | --- | --- |
| click on the Move tool | hov­er over the build­ing you want to rotate and click on the rotate but­ton | or, you can click on the build­ing to pick it up, then press SPACE bar to rotate |
Res­i­den­tial build­ings are paintable
Yup, you heard right, you can PAINT the res­i­den­tial build­ings in the game :-) Try it, it's easy!
| | | |
| --- | --- | --- |
| click on the Paint tool | click on the res­i­den­tial build­ing you want to paint to bring up the Paint screen | choose what colour you want for the Walls, Roof and Accent |
Customization Ideas
Whilst the game pro­vides you with some cus­tomiza­tion tools, you're cer­tain­ly not lim­it­ed to what is pos­si­ble with those tolls alone, all you have to do is to think out­side of the box!
Com­bine Exist­ing Items
There are many items in the game that can be com­bined or arranged in a cer­tain way to give them a com­plete­ly dif­fer­ent look. Take the 'Round Plaza' for instance, here are just two sim­ple com­bi­na­tions you can use to spice things up a lit­tle ;-)
| | |
| --- | --- |
| You can put 4 of them togeth­er and form a cir­cle | You can put two of them into a semi-cir­cle to put some deco around them |
Anoth­er build­ing which leads itself par­tic­u­lar­ly well to being com­bined in the same way is the 'City Col­lege', though at 128K coins and a pub­lic work (which only serves as the key to unlock lev­el 35) it's a rather expen­sive way to cus­tomize..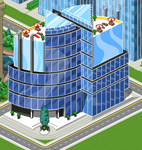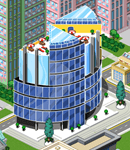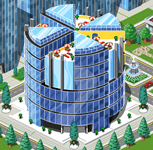 Putting the Deco in the Art
Anoth­er thing you can do to add some per­son­al touch to your town is to sim­ply put some dec­o­ra­tions around some spe­cial units to make them stand out a lit­tle more. I find this works bet­ter when used spar­ing­ly on build­ings that I only have one of in my town – pub­lic works are gen­er­al­ly good can­di­dates in this case. Have a look at the two pic­tures below to see how a cou­ple of sim­ple dec­o­ra­tions can bring to life an oth­er­wise sta­t­ic hos­pi­tal.
| | |
| --- | --- |
| Before | After |
Plant Trees
In my per­son­al opin­ion every town can do with a park, and what bet­ter way to build one than to build it around the won­der­ful Boat­ing Lake. Sim­ple and effec­tive, it's one of my favourite units in the game and per­fect for build­ing a cen­tral park in your town!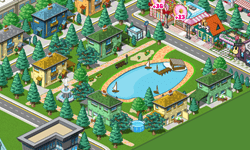 Mind The View!
One of the things you will no doubt notice as you play the game is that some build­ings are HUGE! Espe­cial­ly the res­i­den­tial units you can build lat­er on in the game such as the Sky­scap­er or Mega­Tow­er.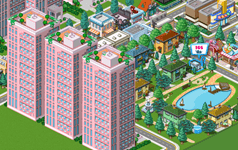 These tall units can have a huge impact on the look of your town as they have the poten­tial to severe­ly lim­it the vis­i­bil­i­ty of oth­er build­ings sit­u­at­ed behind them.
Take the image on the left for exam­ple, the tow­er­ing build­ings have blocked my view of every­thing I had behind them mak­ing it dif­fi­cult for me to do any­thing with those build­ings now that they're not vis­i­ble on screen.
You can get around these prob­lems eas­i­ly by strate­gi­cal­ly plac­ing those tall build­ings along the North and West edge of your town (see pic­tures below).
That way they will not obstruct the view of oth­er build­ings as you are always look­ing into your town from the South-East cor­ner and the tall build­ings are always fur­thest away from you.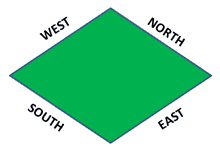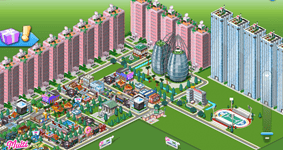 What Others Have Done
Curi­ous as to what oth­er peo­ple have done with their town? Here's a short col­lec­tion of the things that have caught my eye when I vis­it­ed my friends' towns!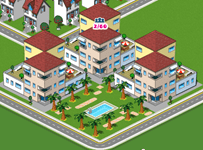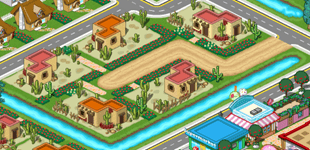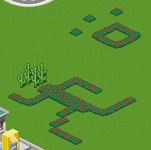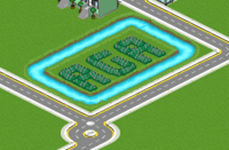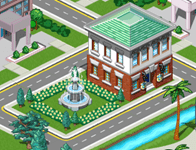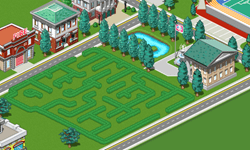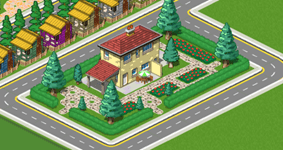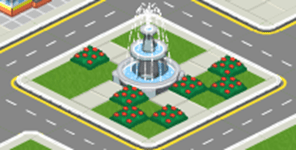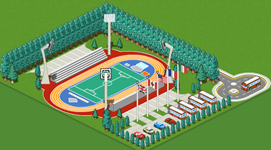 Other Parts in the SuperFunTown Guide: