It's been near­ly two weeks since the offi­cial launch of Super­Fun­Town!, and over half a mil­lion play­ers have joined in on the fun but many has yet to realise the full poten­tial of their town because they're still learn­ing their way into the game.
Whether you've start­ed play­ing the game or are think­ing of join­ing, I'm here to give you some insights and tips to help you do well and get ahead of your friends!
The Basics
The objec­tive of the game is to build a big and beau­ti­ful town! In order to achieve this objec­tive, you need to plan ahead as there are many con­straints which you'll need to man­age in order to suc­ceed. Before I go any fur­ther, let me give you a brief overview of all the dif­fer­ent things you can build in this game:

Res­i­den­tial
In order for your town to grow, you need cit­i­zens. New peo­ple arrive at your town by bus every­day, but you still need to put a roof over their heads as any respon­si­ble may­or would.
Res­i­den­tial vary in cost and capac­i­ty, from the very basic hut to a tow­er­ing sky­scraper capa­ble of hous­ing hun­dreds of cit­i­zens!

Shops
Whilst you do get coins by col­lect­ing rent from your res­i­den­tial build­ings, the back­bone of every econ­o­my is undoubt­ed­ly the small to medi­um busi­ness­es and it's no dif­fer­ent here in Super­Fun­Town!
There is a wide range of dif­fer­ent shops for you to choose from, each is capa­ble of stock­ing a range of dif­fer­ent goods which become col­lec­table after a peri­od of time rang­ing from 5 min­utes to 24 hours.

Fac­to­ries
Like shops, fac­to­ries pro­vides an effect way for you to gen­er­ate rev­enue in the game. Fac­to­ries are a lit­tle big­ger than shops in gen­er­al and the goods you can stock with a fac­to­ry have a bet­ter yield.
Shops tend to be bet­ter dur­ing ear­ly stages of the game when you are like­ly to strug­gle for space but fac­to­ries tend to be bet­ter lat­er on when you can afford to stock expen­sive goods to get a bet­ter return.

Attrac­tions
Attrac­tions play an impor­tant role in help­ing your town grow because they attract more peo­ple to your town. So if you're strug­gling to grow because you're not get­ting enough new cit­i­zens every day then you should start build­ing attrac­tions in your town! Build­ing an attrac­tion also gives you a one off bonus of new cit­i­zens right away.

Trans­ports
Trans­ports are the most impor­tant unit of them all because with them would be cit­i­zens would have no way of get­ting to your town! Right now, bus is the only avail­able trans­port but more will be added in the near future. The bus stop allows up to 4 bus arrivals per day, and each bus car­ries a num­ber of new cit­i­zens cal­cu­lat­ed from your cur­rent pop­u­la­tion, lev­el and the bonus­es received from 'active' attrac­tions in the town.

Roads
Roads play a spe­cial role in the game as build­ings need to be con­nect­ed to roads for them to be 'active'. Take for instance, cit­i­zens can't move into a house if it's not con­nect­ed to a road, and sim­i­lar­ly you can't col­lect coins from a shop/factory if it's not con­nect­ed to a road either.
General Tips
Now that I've got the basics out of the way, let's look at some tips that will serve you well through out the course of the game.
Invite Friends
As with most games on Face­book, it helps to have friends that are play­ing the same game.
Unlike most oth­er games though, your friends become neigh­bours with you auto­mat­i­cal­ly as soon as they start play­ing too.
Hav­ing lots of friends play­ing Super­Fun­Town with you offers a num­ber of advan­tages:
more peo­ple to send you gifts
more peo­ple to donut your shops/factories
you can buy exten­sions at dis­count­ed prices if you have the required num­ber of friends (see below)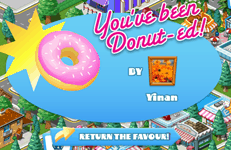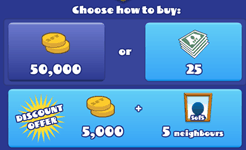 Hire Friends
Most play­ers don't realised that by hir­ing a friend to work in your shops/factories you get a 10% bonus when you col­lect coins from them! This bonus is cumu­la­tive and is stacked up on top of the bonus you get when you friends give you donuts!
To hire a friend, click on the shop/factory, and click the 'HIRE A FRIEND' but­ton and choose the friend you want to hire in the fol­low­ing pop­up. Once your friend has been hired you will be able to see his pro­file pic­ture when you hov­er over the shop!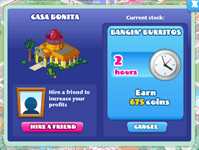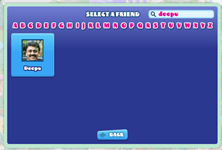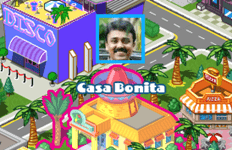 House Friends
Besides hir­ing friends to work in your shops, you can also lease out your res­i­den­tial units to your friends! As you might have guessed already, you get a bonus on the rents when you col­lect from a res­i­den­tial unit where your friend is liv­ing in.
The steps to house a friend is sim­ple, click on the res­i­den­tial unit to lease, in the pop­up win­dow click 'HOUSE A FRIEND'.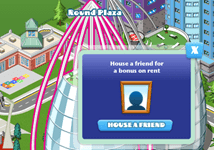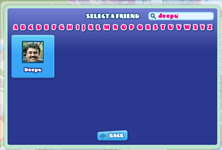 Give Donuts to Friends
Ok ok, I hear you, this only helps your friend but doesn't give you any bonus. That's true, but every time you donut your friend's shops/factories, they'll see a pop­up the next time they log in and chances are they'll be kind enough to return the favour and give you some donuts back and help you out!
Ok folks, that's it from me on the basics of the game and some gen­er­al tips. In my next post I'll go into more details on the econ­o­my of the game and take a clos­er look at the dif­fer­ent com­mer­cial units avail­able to you and which ones you should build to max­imise your earn­ing poten­tial in the game!
Other Parts in the SuperFunTown Guide: