DISCLAIMER : as always, you should bench­mark against your pay­load and use case, the bench­mark num­bers I have pro­duced here is unlike­ly to be rep­re­sen­ta­tive of your use cas­es and nei­ther is any­body else's bench­mark num­bers.
You can use the sim­ple test har­ness I cre­ated and see these exam­ple code to bench­mark against your par­tic­u­lar pay­load.
Json.Net, ServiceStack.Text, Mon­goDB Dri­ve and Jil were all updat­ed to the lat­est ver­sion.
Rpg­Mak­er's NetJ­son seri­al­iz­er has also been added to the mix and the results are real­ly impres­sive with a lev­el of per­for­mance that's almost iden­ti­cal to pro­to­buf-net!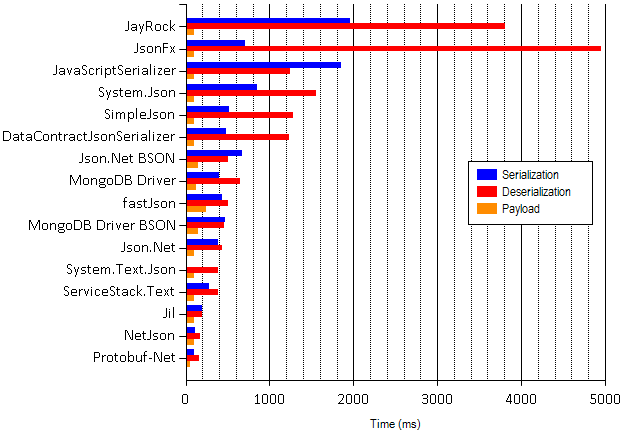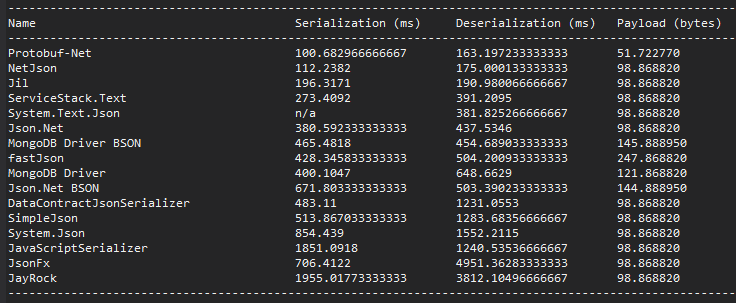 Ver­sions test­ed:
| | |
| --- | --- |
| Jil | 1.7.0 |
| ServiceStack.Text | 4.0.24 |
| Json.Net | 6.0.4 |
| fastJ­son | 2.1.1.0 |
| Mon­goDB Dri­ve | 1.9.2 |
| System.Json | 4.0.20126.16343 |
| System.Text.Json | 1.9.9.1 |
| Json­Fx | 2.0.1209.2802 |
| Jay­Rock | 0.9.16530 |