Presently sponsored by Serverless Guru:
Your guide to cloud excellence, helping you every step of your serverless journey, including team training, pattern development, mass service migrations, architecting, and developing new solutions.
Speak to a Guru today
.
DISCLAIMER : as always, you should bench­mark against your pay­load and use case, the bench­mark num­bers I have pro­duced here is unlikely to be rep­re­sen­ta­tive of your use cases and nei­ther is any­body else's bench­mark numbers.
You can use the sim­ple test har­ness I cre­ated and see these exam­ple code to bench­mark against your par­tic­u­lar payload.
Json.Net, ServiceStack.Text, MongoDB Drive and Jil were all updated to the latest version.
RpgMaker's NetJson serializer has also been added to the mix and the results are really impressive with a level of performance that's almost identical to protobuf-net!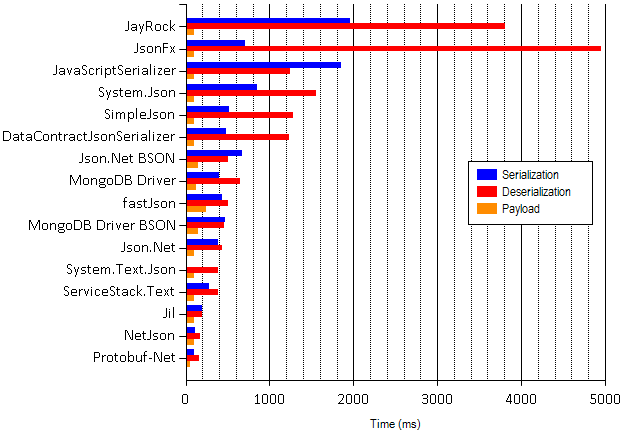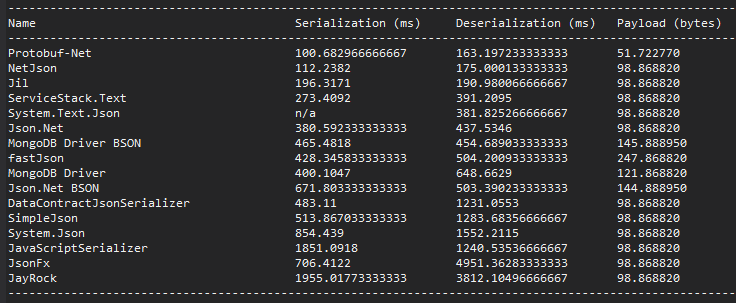 Versions tested:
| | |
| --- | --- |
| Jil | 1.7.0 |
| ServiceStack.Text | 4.0.24 |
| Json.Net | 6.0.4 |
| fastJson | 2.1.1.0 |
| MongoDB Drive | 1.9.2 |
| System.Json | 4.0.20126.16343 |
| System.Text.Json | 1.9.9.1 |
| JsonFx | 2.0.1209.2802 |
| JayRock | 0.9.16530 |